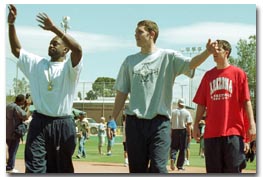 Senior guard Lamont Frazier (left to right), sophomore forward Luke Walton and senior forward Justin Wessel wave to fans at Sancet Field yesterday during a pep rally. The Wildcats will next be in action on Saturday when they Michigan State in Hubert B. Humphrey Metrodome in Minneapolis.
Arizona Daily Wildcat
Defending national champion Spartans stand between Arizona and the title game
They all came to Arizona with one intention in mind.
The legendary and now Hall of Fame-nominated head coach already had one national championship and four Final Fours (one with Iowa) under his belt.
So they joined Lute Olson's UA basketball program in hopes of becoming the best.
That allure of vying for the coveted NCAA Championship ring every season seduced the nation's most esteemed high school players into coming to Tucson.
Now, beginning with Arizona's NCAA Semifinal game against Michigan State in Minneapolis tomorrow, the Wildcats are merely two steps from justifying their decision.
"The upcoming weekend in Minneapolis is why I came to play basketball at Arizona," sophomore guard Jason Gardner said. "Playing for Coach O, I knew that I would be competing for championships. Now here we are, just two games from winning it all."
Gardner and his teammates can't forget that two of Arizona's three Final Four weekends ended prematurely.
The 1988 Wildcats, led by Steve Kerr and Sean Elliot, fell 86-78 to Oklahoma in the semifinal game. Then, in 1994, UA was led by All-American point guard Damon Stoudamire, but was defeated 91-82 by Arkansas, also in the semifinals.
"We're well aware of what happened the first two times that Coach Olson got to the Final Four at Arizona and that's the last thing we want to have happen to him again," junior forward Richard Jefferson said. "It would be painful for him and painful for us. It's something that we don't want to experience."
If there is a team that could spoil a possible Arizona-Duke showdown (the No. 1 and 2 preseason teams), it would be the defending champion Michigan State Spartans.
They have the ardor of reigning kings and boast what so many regard as the key to winning it all- a stringent defense.
"It is going to be a war," senior center Loren Woods said. "With Michigan State, they run a great defense and are so powerful on the rebounds that it boils down to two keys: being physical, while still being smart."
Obviously the Spartans are smart enough to win the championship, having already done it last year. The Wildcats just need to devise a plan to outwit MSU.
"At this point in the tournament, every team is capable of winning it all," senior forward Gene Edgerson said. "We all have the weapons to win it all, we just need to spend a lot of time preparing for Michigan State. This team isn't about to lay down and die in the first 20 minutes, so we're going to need a game plan that can sustain a beating."
Like the Illinois game plan in the Regional Finals last weekend, the Wildcats will likely try to cancel out MSU forwards Andre Hutson and Zach Randolph, making the guards the x-factor.
"Michigan State has some big dudes in the front court that can do some real manhandling," Gardner said. "(Arizona's) Mike Wright and Loren Woods are just as good, so hopefully Gilbert (Arenas) and I can make the difference. But if during the game, it looks that we need to start putting the ball down low, we can make adjustments."
Olson, a big proponent of the idea that the game of basketball centers around adjustments, will have his hands full with MSU head coach Tom Izzo on the other end of the court.
"I've known Tom for a long time," Olson said. "He's a quality guy that does things the right way."
That "right way" has allowed Izzo to lead the Spartans to their third consecutive Final Four, a feat only accomplished twice since 1985. Defending their championship would be even rarer.
"It would be an incredible accomplishment, but there is a lot of work to do to even think about getting there," Izzo said.
Given the similar talent levels of MSU and Arizona, the coaching duel may prove to be more consequential than usual.
"We are playing a team in Arizona that is playing as well as anybody in the country right now," Izzo said. "(They are) probably the most talented team in the country. We know we are going to have our hands full."