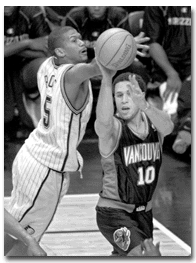 Associated Press
Vancouver Grizzlies guard Mike Bibby, right, takes a shot after getting past Indiana Pacers guard Jalen Rose in the first quarter in Indianapolis last Friday.
By Kamy Shaygan
Arizona Daily Wildcat
Former Arizona guard Mike Bibby, who now plays with the Vancouver Grizzlies, spoke with the Arizona Daily Wildcat yesterday regarding UA's Final Four berth and his life in the NBA. Bibby is having a career season, averaging 16.1 points, 8.0 assists and 3.7 rebounds for the Grizzlies this year.
WILDCAT: What advice do you have for Arizona in order to obtain its ultimate goal of winning a National Championship?
BIBBY: Go in there and out-work the other team. It's going to be a tough team regardless. The guys should have confidence in themselves and not be hesitant.
WILDCAT: What was the 1997 National Championship team's mentality going into the Final Four?
BIBBY: We were happy to be there. We had nothing to lose. We had to go out there and get it done.
WILDCAT: Have you talked to any of this season's UA players regarding the tournament?
BIBBY: I've talked to a few of them. I talked to Richard. I call Richard every once in a while to get his confidence up. I also talk to Josh (Pastner), Eugene (Edgerson) and John (Ash).
WILDCAT: When you guys won the national championship in 1997, what was the team's mentality going into the final four?
BIBBY: Easygoing - we weren't even supposed to be there. If we lost, we lost. If we won, we won.
WILDCAT: Mike, what would you tell a player like Gilbert Arenas who might consider leaving school early after this season and playing in the NBA?
BIBBY: If that chance is there for him, he should take it. You never know what's going to happen so you have to look forward to taking care of your family.
WILDCAT: How excited are you to see Arizona in the Final Four?
BIBBY: I'm happy for the team. I'm happy for Lute (Olson).
WILDCAT: Do you still keep in touch with Jason Terry and Miles Simon?
BIBBY: I've talked to (Jason) Terry when we were in Atlanta and that's it. (As for Miles Simon) I haven't seen him since school so I don't know.
WILDCAT: Are you excited about Vancouver relocating next season?
BIBBY: I'm here doing my job. It doesn't matter. I have one of the best jobs in the world. I'm happy to even get a chance to be playing.
WILDCAT: Do you have a preference of where the Grizzlies should relocate?
BIBBY: Nope. Wherever we go, I will be playing to get a win for my teammates and myself.