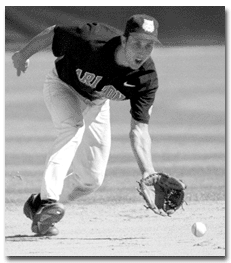 MIKE LARSON
UA junior infielder Brad Hassey charges a ball on March 17 at Sancet Field against Southern Utah. The Wildcats will next be in action tonight as they face Pac-10 opponent Oregon State at Sancet Field.
By Brian Penso
Arizona Daily Wildcat
The Arizona baseball team attempts to put its three losses against USC behind them as they await Oregon State's arrival for a three-game series this weekend at Sancet Field.
The Wildcats (19-15 overall, 2-4 Pacific 10 Conference) will have their hands full with the Beavers, (18-10, 2-1), who recently took two out of three from No. 4 Arizona State.
Even though they have lost three in a row, Arizona head coach Jerry Stitt has been pleased with his team's hard work and said he wants that to carry over into the weekend series with the Beavers.
"We may tinker with the lineup a bit, but that is it," Stitt said. "We played well against USC and all we can do is keep playing with that type of intensity."
Offensively, senior first baseman Ernie Durazo continues to lead the way for the Wildcats, hitting in 32 of the 34 games this season.
Also, junior right fielder Shelley Duncan leads the Pac-10 with 13 home runs and is third in the conference with 38 RBIs.
"We have to have the same mentality every weekend," Duncan said. "It does not matter who we play. We just have to play hard. If we play hard, we will play good and that's what counts."
Durazo said that getting swept by the No. 9 Trojans has not hurt the team's confidence because they now realize what it takes to play with the best teams in the country.
"No matter who we play, the game does not change," Durazo said. "We need to learn from our mistakes and the series versus USC showed us what it takes to be an elite team. Last weekend's sweep has actually motivated us to do even better."
The Wildcats will look to their young freshmen arms once again this weekend to contain the Beavers' offensive attack.
Freshmen Marc Kaiser (5-3, 3.45 ERA), Sean Rierson (3-2, 4.26 ERA) and Chris Goodman (2-1, 5.72 ERA) are the weekend's probable starters.
Each pitcher, though, will need to look to contain Pac-10 Player of the Week, junior catcher Bryan Ingram, who lit up Sun Devil pitching a week ago with a .636 batting average.
Ingram is currently riding a six-game hitting streak under his .344 season batting average.
With the season coming to the halfway point, Arizona is still on the hunt for the postseason.
In order to stay in the conference race as well as the postseason chase, they must realize the importance of every game.
"Every game we play is important and this weekend's series gives us a chance to get back on track and hopefully we can get a sweep," Durazo said. "Oregon State is a good team, but if we play hard, we should be able to have a good series."
First pitch is scheduled for tonight at 7.