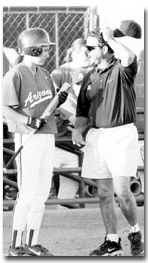 MIKE LARSON
UA head coach Mike Candrea talks to senior Nicole Giordano Monday during the first game of the Wildcats' doubleheader against Central Arizona. Arizona, ranked No. 2 in the country, opens its Pac-10 season today against Oregon.
Arizona Daily Wildcat
Wildcats focusing on getting off to a quick start in always competitive conference
The second-ranked UA softball team begins its quest today for something that has been missing for the past three seasons - a Pac-10 title.
Arizona (36-2) opens conference play in Eugene, Ore. at 2 p.m. against the Oregon Ducks (21-6), who recently fell out of the NFCA/USA Today top-25 rankings. The Wildcats then head to Corvallis, Ore. Saturday for two games against the No. 14 Oregon State Beavers (27-10-1).
Getting off to a quick start this season could go a long way for Arizona, which is trying to claim its first Pacific 10 Conference regular season title since 1998, when the team set a Pac-10 record with its 27-1 mark.
Senior Toni Mascarenas, who was a freshman on that record-setting team, said Arizona is concerned more about its play rather than whoever the opposition might be.
"Oregon has always been good, but this year we're not playing the name game," said Mascarenas, who leads the team with 15 home runs and 52 RBI. "Our mentality is to go out there and win every inning."
Head coach Mike Candrea will send junior Jennie Finch to the pitching circle this afternoon to open the weekend for the Wildcats. Finch is the team's only undefeated pitcher (12-0) and also is hitting .340.
As for the other two games, Candrea has yet to decide what combination of senior Becky Lemke (12-1), freshman Jenny Gladding (12-1) and Finch he'll use. To date, Candrea has gone with a three-person rotation, but hinted earlier this season he might go with his two best pitchers for conference games.
"I feel confident in all three, and there's no reason I wouldn't use all three," he said Monday.
Now that Arizona has completed all but two of its non-conference games (the Wildcats host Fresno State April 18 for a doubleheader), there are no more opportunities for tune-up games. Seven of the eight Pac-10 teams are ranked, including No. 1 UCLA, No 3 California, No. 5 Stanford and No. 9 Arizona State
Southern California and Washington State do not have softball programs.
Now that the "real season" has begun, Candrea is focusing on getting his team to play complete games on a consistent basis.
"You're trying to get all the cylinders working," he said. "We tend to go out and instead of being on all eight cylinders, we're on six. One day we're on four, one day we're on five, one day we're on seven. To win it all, you need to be on all eight."
Following this weekend's swing up the Oregon Trail, the Wildcats head to Seattle for one game against No. 15 Washington next Friday. The next day, they fly to Los Angeles for two games against UCLA, the unanimous No. 1 team in the country.
"It's important that we get a good start," he said.