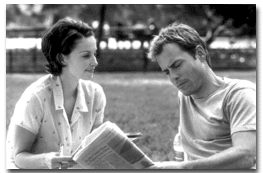 Photo courtesy of Twentieth Century Fox
Jane (Ashley Judd) spends an afternoon with her perfect guy and soon-to-be-ex-boyfriend Ray Brown (Greg Kinnear) in "Someone Like You." The film opens in theaters today.
By Adam Pugh
Arizona Daily Wildcat
Grade: B+
Cow mating, underwear cheerleading just part of the funny moments of Ashley Judd's new romantic comedy
Lately the romantic-comedy genre has been filled with movies like "Miss Congeniality" and "The Wedding Planner," which try their hands at humor and inevitably fail. These tragedies of film waste the moviegoing public's time with stupid jokes and flaky love stories that inspire nothing more than the gag reflex.
The new romantic comedy "Someone Like You," however, is a movie that has smart dialogue, an engaging story and effective acting. It raises the standard of the genre that other films now have to live up to - as it brings laughs and thoughts about the relationships between men and women.
Jane Goodale (Ashley Judd) and Ray Brown (Greg Kinnear), both of whom work for the Oprah-esque Diane (Ellen Barkin), have successful careers and an even more successful relationship. Ray is a sweet guy who brings her flowers and likes to take long walks on the beach. Basically, he is everything Jane has ever wanted in a man.
But Jane soon turns into a seething man-hater when Ray reveals his commitment phobia. Jane is left without love, hope or an apartment. So she decides to indulge herself in the blame after moving in with her male-chauvinist co-worker Eddie Alden (Hugh Jackman of "X-Men").
Filled with emptiness and despair, Jane looks for answers in all of the wrong places. She reads an article in the newspaper about the mating habits of bulls which only go with the same cow one time.
Her 'old cow' theory becomes an obsession and she begins doing research on how men and women relate and compare to cows. At this point in the movie, an amusing narrative takes place that features cow-on-cow action.
The movie keeps its sights on being quick and witty as surprises lurk around every corner. Each new scene is punctuated by introductions that guide the viewer into the many comical situations to be had. From cow-mating to underwear cheerleading by Ashley Judd, the film invites the viewer in by being down to earth with real-life situational comedy. This is not just a "ditzy blonde who falls in love at first sight" story.
Heartbreak and dishonesty let this movie present many different ideas and brings them together to make one big point about love and relationships - how to self-improve instead of trying to improve everyone else.
Quick dialogue and smart comebacks bring continuity to this film. By using everyday problems the movie is easy to relate to and does not come off as being just another cheesy love story.
As Jane travels through her journey of self-discovery the audience also learns some truths about how men and women treat each other. The ending is heartwarmingly serious and brings closure to this truly classic tale of love and betrayal.
Finally a movie has been made that can be funny and serious about all of the issues of love without any major clichˇs.