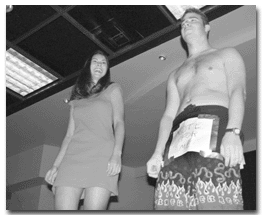 AARON FARNSWORTH
Dance sophomore Nicole Ashley Baker admires creative writing freshman Robb Edinburg's "Vote for me" sign during their catwalk at the 2nd Annual Mr. and Ms. U of A Pageant Saturday. Freshman Dana Wampole and senior Peter Bucsh were crowned this year's winners just in time for the semifinal NCAA basketball game between Arizona and Michigan State.
By Katie Clark
Arizona Daily Wildcat
Delta Tau Delta, Pi Beta Phi put on Mr. and Ms. U of A contest to benefit Ronald McDonald House
Contestants in the Mr. and Ms. U of A Pageant shared their feelings about philanthropy during the Saturday afternoon event.
"Philanthropy to me is doing something for others without expecting anything in return," said Stefanie Abalos, one of the 12 female contestants who also won the award for best interview.
"It's kind of like going to the gym," she continued. "You wake up in the morning and you don't really want to go, but then when you do and you're done, you feel so good about yourself."
"It's about having fun and world peace," said pageant winner Dana Wampole, a studio art freshman.
About 50 University of Arizona students showed up for the fundraising pageant, which was held in the Memorial Student Union Arizona Ballroom.
Peter Busch, the pageant's male winner and one of 11 men competing, said he considers philanthropy to be a learning experience.
"It's about putting yourself in someone else's shoes," he said.
Terry Thornley, philanthropy chair for the Delta Tau Delta fraternity, which co-sponsored the event with Pi Beta Phi sorority, said about $300 was raised for the Ronald McDonald House.
"There weren't as many people as we had hoped," said Thornley, citing the UA men's basketball game as an attendance factor. "But I'm still happy with the results."
In addition to the question-and-answer session, contestants also participated in a fashion walk and talent competition.
The contestant pool was narrowed down to four females and four males after the fashion walk, who were all eligible for the talent competition.
Busch chose to sing UA's fight song, "Bear Down," in three different languages in honor of yesterday's game for the talent portion of the competition.
The singing ended with an English version complete with full crowd participation.
"It was a lot of fun," Busch said after winning the crown. "I came here to help out. Winning was just a bonus."