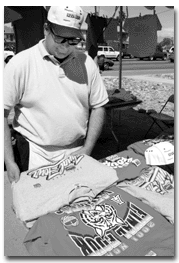 BEN DAVIDOFF
Independent seller Bob Lukas arranges Arizona-themed apparel in front of Dirtbag's, 1800 E. Speedway Blvd. Despite the UA basketball team's recent loss in the NCAA title game, sales of Arizona-related merchandise have not significantly dropped.
Arizona Daily Wildcat
UA Bookstore and Arizona Bookstore say profits on Final Four merchandise has stayed high
UA Final Four merchandise sales have remained high despite last week's loss to Duke University.
Jeana Preciado, merchandise buyer for the Arizona Bookstore at 815 N. Park Ave., said that a large amount of basketball merchandise, including T-shirts, banners, stuffed wildcats and other items, is still being sold.
"Sales dropped after the loss," Preciado said. "But they still remained strong throughout last week and this week."
Preciado said that sales began going up before the Final Four games, but the store saw a significant gain in sales after the games.
Tiffany Joyner, a pre-medical technology freshman and salesperson at the UofA Bookstore, 1209 E. University Blvd., described the same situation in the bookstore's clothing department.
"We never ran out of anything," Joyner said. "But we had to keep re-ordering merchandise."
Joyner said that even one week after the game, people are still coming in to buy Final Four merchandise. While she didn't have actual numbers on sales, she has observed more customers in the clothing department than usual.
Scott MacKenzie, director of marketing and promotions for the UA athletic department, approves all designs for shirts and other novelty items that bare the Arizona logo. He said that potential Final Four designs were presented to him more than six weeks ago. National Championship merchandise was not approved until after the Sweet 16 games.
"There are basically a few generic designs that are drawn up, and the names of the teams are put in after the fact," MacKenzie said.
According to MacKenzie, some national championship merchandise was probably made by the university's suppliers in hopes of winning, but the merchandise was never distributed.
Both the Arizona Bookstore and the UA Bookstore said that they did not receive any national championship merchandise.
Preciado said that orders were placed on a "what if" basis. If the UA had won, the orders would have immediately gone through and the merchandise delivered. She also said the Arizona Bookstore has contracts with five different suppliers, and that no additional Final Four merchandise was order after last Monday's defeat.
"We did not want to be left with more shirts than we could sell," she said.
Up until Monday afternoon, street vendors could still be seen selling basketball merchandise, but yesterday's wet and cold weather forced them to close shop.
Preciado said that in 1997, after Arizona won the National Championship title, most vendors saw much larger profits then those of this year.
"Sales are nowhere near where they would have been should we have won, but they are still holding on strong."