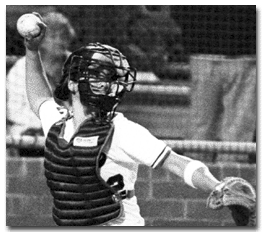 KEVIN KLAUS
UA freshman catcher Mackenzie Vandergeest attempts a throw to second base during a March 6 game against Creighton at Hillenbrand Stadium. Vandergeest's clutch hitting allowed No. 2 Arizona to split a two-game series with No. 1 UCLA last weekend in Los Angeles.
Arizona Daily Wildcat
2-game home series vs. No. 9 ASU looms this weekend
Heading into last weekend's road trip to Seattle and Los Angeles, the Arizona softball team knew it was going up against two of the most formidable opponents in not just the Pacific 10 Conference, but the entire country.
With this in mind, the No. 2 Wildcats wanted to use the three games against No. 14 Washington and No. 1 UCLA as a measuring stick to see where they stood.
What they ended up measuring, though, was something slightly different but nonetheless valuable - the difference between Pac-10 teams and those Arizona had played prior to them was astounding.
As has been the case in previous seasons, the Pac-10 contains most of the dominant programs in the country. Besides UA, UCLA and Washington, Stanford (fourth), California (fifth), Arizona State (ninth) and Oregon State (16th) are all ranked nationally.
Oregon is the only Pac-10 school not in the top 25, as USC and Washington State do not have softball programs.
"It's hard to compare where we all are because it's such a tough conference," freshman Leneah Manuma said.
So, even though Arizona (39-4 overall, 3-2 Pac-10) went 1-2 last weekend and scored all four of its runs in one inning, players were not disappointed with the team's effort. Arizona lost a 1-0 decision to Washington Friday, and then defeated the Bruins 4-0 Saturday before falling 3-0 Sunday.
"I don't think as a team we were disappointed, but I think a lot of people are disappointed in themselves," senior Toni Mascarenas said.
Until the two losses, the Wildcats had not been shut out all season.
"I think all of the pitchers that threw - ours included - all pitched well," Manuma said. "It's a matter of not just getting the hits, but getting timely hits."
Because most Pac-10 teams have a balanced offensive attack and at least one pitcher that controls the game each time she steps in the pitching circle, the conference race might remain wide open until Arizona's last game of the season, a May 12 rematch with Washington.
---
Freshman Mackenzie Vandergeest had the biggest hit of the weekend for Arizona, a three-run home run that broke open Saturday's close game against UCLA.
The hit was all the nicer for Vandergeest, as she was making her first homecoming to the Los Angeles area, where she played at LaReina High School in Thousand Oaks.
"My whole community was there - family, friends, old coaches and teammates - it was just awesome to do that."
The road trip was also a return home for Mascarenas (Garden Grove), senior Erika Hanson (Thousand Oaks), senior Lauren Bauer (Santa Ana), senior Lindsey Collins (Fountain Valley), junior Jennie Finch (La Mirada) and freshman Kim Balkan (Chino Hills).
"There were probably more U of A fans there than UCLA (fans)," Vandergeest said.
Playing in front of family and friends provided some relaxation in the otherwise intense No. 1 vs. No. 2 showdown.
"It's always nice going back because you look in the crowd and you see so many familiar faces," said Mascarenas, who estimated her support group to be about 15 or 20 people. "Going there, it's always fun knowing you're going to their home field, but we're going to have just as many fans as them."
---
After two weekends of conference play, two unfamiliar faces are atop the standings.
Arizona State (30-9, 5-1) and Stanford (35-3-1, 5-1) have both built steady programs during the past decade, but have not seen their regular season success pay off in terms of Pac-10 or College World Series titles.
With the Sun Devils visiting Tucson Friday for two games against the Wildcats, more is on the line than in-state bragging rights.
"I think the rivalry is just between first place in the Pac-10," Mascarenas said. "I know it's Arizona State and Arizona, but more importantly, it's a big weekend in the Pac-10."