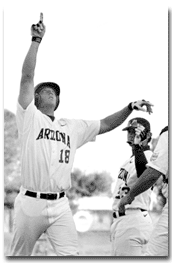 file photo
UA junior right fielder Shelley Duncan points to the sky following a home run earlier this season at Frank Sancet Field. Duncan - the son of St. Louis Cardinals pitching coach Dave Duncan - leads all college baseball players in home runs this season.
By Brian Penso
Arizona Daily Wildcat
Wildcat defense battles through snow
Going into the season, UA junior right fielder Shelley Duncan was considered to be one of the best power hitters in the nation. And the preseason predictions seem to be right.
In Baseball America's "Best Tools in the Pacific 10 Conference" feature, Duncan was said to have had the best power in the conference.
Not only is Duncan the best power hitter in the conference so far this season, but he is also leading the nation with 16 home runs.
"I am not at all surprised that he is leading the country in home runs," UA senior first baseman Ernie Durazo said. "Three years ago I could have told you he would one day lead the nation in home runs. He is just that good of a player, and to be honest he is not even close to being done yet."
The junior's teammates say he is becoming a more conscious, aware hitter.
"I have noticed this season that he is becoming more of a complete hitter," junior shortstop Brad Hassey said. "He is not just going for the home run. When I first got here, he was a straight pull hitter, but now he is hitting the ball the other way with a lot of consistency."
Duncan also leads the Wildcats in RBIs (48) and walks (27).
"I am not surprised with the success he has had this season," Arizona head coach Jerry Stitt said. "His capabilities are endless."
o o o
As the Wildcats enter the heart of their conference schedule, coaches say they are pleased with the way UA has played defensively.
Arizona's defense started the season poorly, which led to problems for the pitching staff, but as of late the team has been playing solid defense around the diamond.
This was never more apparent than this weekend against Washington State when the team had to play two games in falling snow.
"Everyone on our team knew it would be a challenge to play well in the snow," Hassey said. "We just focused ourselves and we told ourselves that we were going to be ready to play. We concentrated a lot and we got the job done."
Durazo was pleased with the team's defensive effort against the Cougars, and he said the team has to continue that type of intensity in order to have a successful season.
"It was really cold this weekend (but) we sucked it up and played tough," Durazo said. "We played really well in the cold, and our defense was just awesome. It showed that we can play through anything."