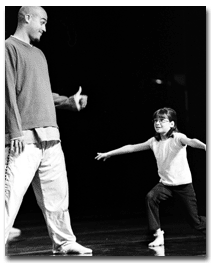 BEN DAVIDOFF
UA Presents Community Engagement Director Wade Colwell encourages Jeannette Schloss, a Paul Taylor Dance Co. participant, Monday night in Centennial Hall. Colwell helps direct Taylor 2, a modern dance group aimed for smaller venues in the general community.
By Lisa Lucas
Arizona Daily Wildcat
Professional dance companies rarely have time for community outreach programs.
Paul Taylor, choreographer and creator of Paul Taylor Dance Company, realized the need for community involvement and created "Taylor 2," a second company of dancers who instruct Taylor's dance style to communities across the country.
Wade Colwell, community outreach director of UApresents, said the dancers of "Taylor 2," though not a part of the original Paul Taylor Dance Company, are "world-class dancers," nonetheless.
"They all have contact with Paul Taylor," he said. "(They're) very concerned with his main company. They know all the repertoire, so they can do full performances - we don't have them do the performances here (because) most requests were for the master classes."
Colwell said the second branch of dancers represents what Taylor's company is all about - "getting into spaces the larger company cannot (get to)."
He added that the members of "Taylor 2" reach out specifically to the people who cannot attend Taylor's professional performances.
"(They) take Taylor's work to venues where Paul Taylor's Company can't, (like) community centers, hospitals, day centers (and) schools," he said.
According to Colwell, the group will do community outreach in Tucson all this week, leading up to the Taylor Company's Saturday night performance at Centennial Hall. He said the group has already begun their outreach program.
"(Monday) we spent a whole day at the Tucson High Magnet School," he said, "We were able to teach master classes to every single one of their dance students. Then in the evening we had an introduction to movement workshop at Centennial."
Colwell said Monday's outreach included teaching dance students at Rincon High School as well as teaching master classes at the Ballet Arts Foundation, 200 S. Tucson Blvd.
"Taylor 2" will also instruct University of Arizona dance students in Paul Taylor's dance style throughout the week.
"(Today) they are teaching classes with the UA dance department," he said. "They're going to be working with the same class twice, (today) and Friday."
Tomorrow, "Taylor 2" will again instruct UA dance students in an intermediate level dance class as well as an advanced choreography class.
The outreach sessions are open only to dance students in the participating classes.
This afternoon at 3 p.m., "Taylor 2" will perform a free concert open to the public at the John Valenzuela Youth Center in south Tucson.
"They're going to do two full dances, in costume, for the youths at the neighborhood center," Colwell said. "There should be about 100 youths there."
The group will also hold a master class tomorrow, open to advanced dancers within the Tucson community. The class will be held at ORTS Theater of Dance, 121 E. Seventh St., from 6:30 to 7:45 p.m.
Also on the outreach agenda of "Taylor 2" are performances and interactive classes at Casa de los Ni–os, 1101 N. Fourth Ave., and the Life Care Center of Tucson, 6211 N. La Cholla Blvd.
"It's a really well-balanced itinerary for them here," Colwell said. "Different age brackets, cultural backgrounds, level and talent backgrounds - it's been going really well so far."