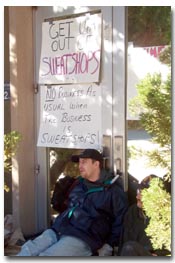 RANDY METCALF
A member of Students Against Sweatshops protests outside the Administration Building last December. He was arrested by university police once the U-Lock that secures his neck to the front door was released.
Arizona Daily Wildcat
Members say their work has been successful
Next year, members of SAS will continue to defend workers' struggles internationally, put more pressure on President Peter Likins to withdraw from the Fair Labor Association, and become more integrated with their national organization, a member of the organization said.
Jesse Kirchner, a linguistics sophomore, said a major goal of Students Against Sweatshops is to encourage people to look into issues concerning labor rights.
"Even when an (SAS) event is not successful it gets people involved and informed about issues," Kirchner said. "I think we've gotten a lot more exposure."
Kirchner, one of 20 active members of SAS, became involved this fall.
He said an increase in news coverage and an increase in students' attention to SAS has been beneficial to their purpose.
"In some sense, any news is good news," he said. "We want to encourage people to look into the issues and think about them. We are confident they will agree with SAS."
SAS members have addressed their dissatisfaction with the labor abuses and physical violence against workers at Kukdong, a Nike-owned factory in Atlixco, Mexico.
Arne Ekstrom, a neurosciences graduate student, said Kukdong, in addition to other international factories, will be a focus for the group next year.
Ekstrom, a member of SAS for three years, said the organization's involvement with the Kukdong factory - which manufactures UA products and whose management has been accused of violating workers' rights - is important because Kukdong is so close to the United States.
SAS spent time this past semester trying to make Likins fulfill a promise they said he made the last summer to withdraw from the Fair Labor Association- a self-regulated business that does not support workers' rights, according to SAS members.
Kirchner said a UA Faculty Senate task force recommended Likins withdraw from the FLA. Likins hesitated because the UA was one of the founding members of the organization and it could be seen as a withdrawal from the Nike company.
"Whenever you have monitoring by the people who are supposed to be monitored, you're going to have problems," Ekstrom said. "Putting pressure on the administration will, in turn, put pressure on Nike, who will ultimately put pressure on Kukdong to recognize the independence union that workers want to join."
In the spring of 1999, the student chapter members held a sit-in in Likins' office until they were forced to leave.
On Nov. 7, the students performed their first "lockdown." About 40 students, members of local unions and other labor support groups blocked all of the building's entrances, excluding fire escapes, to the Administration building.
At noon the same day, the building was forced to shut down and all employees were sent home. A total of eight participating students were arrested by university police.
"You either think of activists as constructive or as only wanting to take action," Ekstrom said. "We (SAS) believe in a combination. We are constructive and take action when it's called for."
On April 25, an SAS representative, along with members of various community organizations and several students from the UA, made a trip to Nogales, Mexico to look into ways the UA could contract non-sweatshop factories.
"I definitely think we've gained ground with the administration," Ekstrom said. "The trip to Nogales was a good mark of the administration's interest (in SAS)."
"We will put more pressure on Likins next year to drop the FLA," Kirchner said. "We're not going to give up on it."
Ekstrom said he hoped the trip to Nogales would influence UA students to pay more attention to what they're wearing and buying.
"I'd like to think that got us a fair amount of favor," he added.
SAS plans to work closer with their national organization, USAS (United Students Against Sweatshops), next year, Ekstrom said. USAS encourages individual chapters to send delegates to other countries that struggle with worker's rights issues.
"I think we've been pretty successful as a chapter," Kirchner said. "Hopefully next year we can do more."