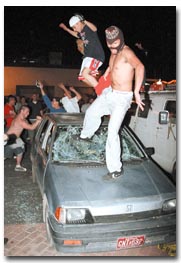 Matt Heistand/Arizona Daily Wildcat
Arizona Daily Wildcat
For 2000-01's top News photos, click here.
1. Fourth Avenue riots
Tucson Police arrested 17 people - including seven UA students - during the rioting that ensued along the popular North Fourth Avenue area after Arizona's loss to Duke in the NCAA title basketball game.
Rioters tipped cars, torched a street vendor's motor home, and damaged and looted several businesses in the district the night of April 2. UA freshman Jeff Knepper's left eye had to be surgically removed after he was shot with a police projectile, and seven others who were hit have filed claims against the city about the use of force.
Officers fired more than 450 rounds of non-lethal ammunitions after ordering the crowd of about 1,500 people to disperse. UA President Peter Likins offered $1,000 for information leading to the arrest and conviction of individuals who engaged in acts of violence that night.
2. Wildcats play for NCAA basketball title
After a shaky season start and the death of his wife Bobbi, Arizona men's basketball coach Lute Olson led the Wildcats to the NCAA title basketball game for the first time since 1997. The Wildcats handily disposed of Eastern Illinois, Butler, Mississippi, Illinois and Michigan State in the early rounds of the tournament, but fell to Duke University, 82-72, on April 2. The team ended its season with a 28-8 overall record.
3. Bobbi Olson dies of cancer
Bobbi Olson, wife of Arizona men's basketball coach Lute Olson for 47 years, and hostess and mother figure to years of prospective, present and past players, died on Jan. 1 of ovarian cancer. She was 65.
About 1,500 people filled McKale Center for a memorial service on Jan. 8. In lieu of flowers, the Olson family asked that donations be made to the Arizona Cancer Center, where Bobbi Olson had been undergoing treatments. The Center plans to build an endowment program for ovarian cancer research.
4. Students Against Sweatshops lockdown
As the sun rose on Nov. 9, members of UA's Students Against Sweatshops chained themselves to all but one hidden entrance to the Administration building in protest of university President Peter Likins' membership in the Fair Labor Association. The protesters linked arms through PVC pipes, which were reinforced with roofing material and steel rods. UAPD officers cleared the area after using the "jaws of life" to break the pipe links. After eight hours of protest, eight demonstrators were arrested.
5. ASUA elections campaign controversy
The race for ASUA administrative vice president was marked by controversy when candidate Brandon D'Angelo was disqualified for campaign violations.
D'Angelo, an undeclared sophomore, was disqualified from the original race just after midnight March 8 - the final day of the general elections. Associated Students elections commissioner Joe Rogers decided that D'Angelo violated the sanctions placed on him earlier in the day after he sent a mass e-mail to 4,200 students. D'Angelo was told to remove all campaign materials as a penalty, but ASUA officials learned of a banner still hanging on a sorority house after the materials-removal deadline.
D'Angelo's opponent, Tricia Williams, a political science junior, was named ASUA administrative vice president March 8 after his disqualification. D'Angelo appealed to the ASUA Supreme Court and won the right to a special run-off election - which Williams won with 80 percent of the vote.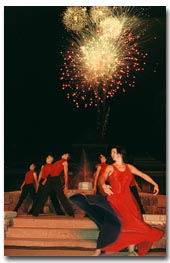 Aaron Farnsworth/Arizona Daily Wildcat
6. UA launches of Campaign Arizona
After years of anticipation, planning and preliminarily fundraising, Campaign Arizona, the university's $1 billion fundraising campaign, got off to its official start. Dignitaries, celebrities and wealthy benefactors attended the Oct. 6 gala on the Old Main lawn, which gave a glittery start for the largest private fundraising event in the UA's history. As of March 31, $551.2 million have been raised. The campaign is scheduled to end June 30, 2005.
7. Christopher City housing complex closes down
Christopher City, the university-run graduate and family housing complex, shut down on Aug. 31, displacing the residents of 305 units. The aging apartments, 3401 N. Columbus Blvd., were recently brought under scrutiny for being infested with toxic mold, which some residents claimed made them sick. Last month, the Arizona Board of Regents passed a motion to auction off the land at a starting bid of $6.9 million. The buildings are set to be demolished by the end of June.
8. Construction nears completion of first phase
Nearly two years of dirt mounds, construction vehicles and detours will be capped off when the newly-completed Integrated Learning Center and the first portions of the renovated Memorial Student Union open their doors in the next several weeks.
Classes in the underground ILC will start in the fall after the fences are removed and vegetation on the east end of the UA Mall is restored this summer. The new UofA Bookstore saw its first customers in March, and a renovated dining services center on the east end of the union will open by June.
Construction will continue on the central part of the union until about August 2002.
9. Graduate teaching assistants make advances
This year, university and state officials continued to recognize the heavy workload of graduate teaching assistants. In December, UA Provost George Davis passed an initiative allowing tuition and registration fees for graduate teaching assistants to be taken out of their first five university paychecks. In March, the Arizona Regents heard a proposal that would eliminate tuition fees for graduate students, although no legislative action has yet been taken. Last month, Gov. Jane Hull vetoed several sections of the Senate budget, but her cuts did not include the $1.5 million that legislators deemed should be set aside to hire about 104 new TAs at the UA.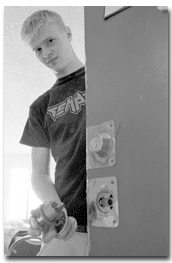 Eric M. Jukelevics/Arizona Daily Wildcat
10. Sky View residents speak out
Residents of the university-leased Sky View Apartments, 1050 E. Eighth St., brought a long list of complaints to Residence Life officials about the deteriorating condition of their apartments.
Dirty, damaged and faulty carpet, furniture, plumbing and appliances led many residents and parents to complain that the students - many of them freshmen - were not receiving a fair and enjoyable university housing experience.
Residence Life acquired the off-campus complex this year to alleviate the growing demand for undergraduate housing, but by November, Residence Life officials allowed residents to terminate their rental agreements. Nearly 40 percent took advantage of the offer.