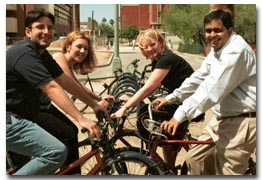 BRYAN TROLL
From left to right: Molecular and cellular biology senior Andrew Edmonds and finance senior Surenela Mullaj are hitting the road as they graduate from the top of their respective majors. Also at the top of their classes are Kim Brydle, who will graduate from the College of Medicine, and Kapil Chhibber, who will graduate with a double major in management information systems and finance.
By Ayse Guner
Arizona Daily Wildcat
Top seniors ready to take on the world
You may have seen them walking on campus, working in laboratories or taking notes in class. These students have worked their way to the top of their classes, received awards and are days from graduation. After spending up to five years in Tucson, these students have devoted their energy to the University of Arizona.
Kimberly Brydle, medical student
No one in Kimberly Brydle's family went to college. While she was a full-time undergraduate at the UA, she worked several jobs to overcome her economical barriers.
Brydle yearned for scientific knowledge all her life, and eventually made her way into the UA School of Medicine in 1996. And now she is graduating with honors.
She has two children, Samantha and Jonathan, to look after, along with hundreds of patients she will see this summer at UMC, where she will pursue her residency.
Brydle's dreams about a future in medicine started in high school when she said she lacked role models for higher education.
Her chemistry teacher at Desert View High School, though, prompted Brydle to think about college.
"She was the only teacher that talked about college," Brydle recalls. "She had shown me how to study, and she challenged me."
Brydle holds two degrees - in microbiology and family studies - in addition to her M.D.
After completing a three-year residency at the University Medical Center's department of internal medicine, she will become a certified doctor if she passes her final exam.
She acknowledges her financial and social barriers as a child, which she began working to overcome at a young age. At age 13, she baby-sat neighbors' children, and by 16, she had her first job.
"Because of these barriers, going to a college was questionable, and medical school seemed impossible. But I knew what my destiny was going to be," she says.
When Brydle worked as a secretary at the UA pathology department in 1991, she would read the scientific articles that she photocopied. Often, she says, she couldn't understand some of the highly technical terms, and would bring her questions to the department head. Soon, professors offered Brydle a position in the department's research lab.
Despite her limited science knowledge, Brydle quickly became a research assistant working on how chemotherapy treats breast cancer.
"If you show interest, people are going to take you in," she says.
In 1994, she married her high school boyfriend, Ray Andrade, who is also a UA graduate and now a biology teacher at Challenger Middle School.
Two years later, Brydle became pregnant with her first child, and during her first medical school midterms, the baby was born. She split up her first year to spend time with her new family, and two years after that, her second child was born.
In 1998, her third "baby"- an educational outreach program - came. Brydle developed a science program, called Med Teach, for seventh grade science students. She has sent 75 UA medical students to the Sunnyside School District so far, where about 2,000 middle schoolers have received mentoring on subjects such as anatomy.
"I saw the need at school - I knew what it was like being a student without role models," Brydle says.
Brydle credits her teachers and parents for her success.
"Very special people you meet along the way, who are passionate about what they do, and make you want to learn," she says. "That is what makes it possible."
Kapil Chhibber, finance and MIS
Kapil Chhibber's best friend is a calculator. He deals with large numbers - if not on the board of a lecture hall, then in his mind.
This finance and management information systems senior has not had a day off since he came to the University of Arizona. He is known as a "strong go-getter" among friends. And although he is headed to a finance job where he is expected to work 80 hours a week, he says he is not a bit overwhelmed.
Chhibber, who has a 4.0 grade point average, has been offered a job in California with Lehman Brothers, a global investment bank. Chhibber will start as an investment-banking analyst.
He has worked hard to get here, he says.
Chhibber, a native of the Phoenix suburb of Gilbert, first heard about the UA's information technology studies from a hometown friend. When he came to college, he quickly adapted to campus life.
While running between one department and another - often skipping weekend rest - he has also interned at top companies.
The way he managed his life was simple, though, he says.
"Prioritize your time, plan ahead and organize," Chhibber says. "If you put forth the effort in doing something, anything's possible."
During his sophomore year, Chhibber worked as an intern at Honeywell International's information technology section. Later, his curiosity in science led him to enter NASA's Space Grant internship program, working with a mentor in hyperspectral imagery analysis.
He spent last summer working as an intern at Intel, the world's largest computer chip-making company. This year, he interned with IBM's Global Services section through a co-op program in MIS.
The future financial analyst also wants to become tomorrow's finance lawyer. After working several years at Lehman Brothers, Chhibber plans to pursue a joint masters of business administration and law degree.
"I have always had an interest in politics and history," he said.
Sonny Suchdev, sociology and Latin American studies
Sonny Suchdev knew he was meant to spend his life fighting social injustices.
He has dark skin, covers his 4-foot-long hair with a turban, and maintains a puffy beard. He is an Indian practicing Sikhism, has been called a terrorist, and looked at as "the other."
Suchdev, a sociology and Latin American studies senior, will graduate with memories of his activism at the University of Arizona, where he sought to combat racism. He was the president of a group called Beyond Tolerance, which is devoted to facilitating student discussions about issues of oppression. He was also a member of Students Against Sweatshops, Campus Acquaintance Rape Educators, the Commission on the Status of Women and Amnesty International.
He has learned how to think critically at the UA, he says.
"Only by thinking critically and questioning and analyzing the world can we make significant social change," he says.
Although his parents wanted him to become an engineer or a physician, Suchdev wants to fight against issues like sexism, racism, inequality and oppression that have crippled society.
To explore social issues further, Suchdev has traveled abroad. He studied Spanish in Guanajuato, a town in central Mexico, and has been to the Indian city of Bombay, where he witnessed striking poverty.
"For miles and miles, (in) little tiny shacks, thousands of people live in there, and it's hard," he says.
Although his parents had told him a lot about India, "there is no way I could have prepared for everything," he says.
Chosen as senior of the year for the College of Social and Behavioral Sciences, Suchdev has been praised by his colleagues, professors and peers. For his honors thesis, he explored how student affairs offices address issues of racism and oppression.
He has also helped Lynette Cook Francis, director of multicultural programs and services, in pointing out areas where student affairs could improve.
"He is such a well-rounded, brilliant person, yet does not make other people around him feel they are less than brilliant," says Francis, who is also an associate dean of students.
Suchdev has played the trumpet since the fifth grade. During his freshman year at the UA, he formed the band Turban Jones, which plays the Caribbean-flavored music Ska, in combination with jazz, Latin and Indian music.
"I remember watching him on the stage, the Caribbean music he plays, singing and dancing around," Francis says. "He has a lot to offer."
Suchdev has been accepted to a post-graduate program at the University of Massachusetts. He will master in social justice education.
He has been enthusiastically following in the footsteps of social leaders such as Mahatma Gandhi and Brazilian educator Paulo Freire.
"As Mahatma Gandhi said, 'You must be the change you wish to see in the world'," Suchdev says.
Andrew Edmonds, molecular and cellular biology
Andrew Edmonds has traveled the globe to discover new faces.
He swam with whales and manta rays in New Zealand. He played basketball with children in Turkey. This summer, he will study in Africa to educate people about AIDS.
Through a private foundation in Phoenix, he has received a scholarship worth $40,000, which has covered his tuition as well as his study-abroad fees. As a result of his international research, Edmonds has been awarded the Fulbright Scholarship, which is presented to graduating students conducting international research.
College life was not only traveling for Edmonds, though.
At 15, he started working at the Arizona Cancer Center's skin cancer research laboratory. He has continued studying cancer ever since, and was once published in a medical journal.
Then, he worked for Camp Wildcat, a campus-wide organization which helps underprivileged children. Edmonds, along with other volunteers, has organized camps for children, counseled them and even cooked for them. So far, he has been to 14 camps.
"Some of the kids never have been to mountains before," he says.
During the camp trips, Edmonds told the children stories about his college experiences and his travels around the world to convince them to go to college.
"It installs confidence and motivates them," he adds.
In 1999, Edmonds led a group of UA students to Los Angeles over Spring Break to volunteer at L.A. Shanti, a non-profit organization that provides direct services to people with AIDS. He worked in food banks, facilitated activities, and supported children who had a parent affected with the disease.
That is how his interest in going to Africa was prompted, Edmonds says, adding that he will work with the University of Zambia's economic commission, as well as with the United Nations.
He wants to engineer ways to use the Internet as a tool for HIV and AIDS education in rural communities.
His visit to Turkey and Greece last summer was through a humanities class called Humanist Voyage of Discovery, with senior lecturer Donna Swaim.
"I remember how he would hold his glasses in his hands when he slept in the bus," Swaim says. "He broke it not once but twice, so last night, we gave him a glasses case as a gift."
"Not only his wide range of interest in humanities and science, but how able he is to interact with people" is what amazed Swaim about Edmonds, she says.
"He will be in service to all of us."
Surenela Mullaj, finance
Surenela Mullaj is from Albania, a European country mostly known to Americans as a site for Kosovar refugees. But for her, the country is more than a refugee shelter - it is her heart and soul.
Though Mullaj has lived thousands of miles away from her home country, she still uses her native language. As a volunteer for the local Episcopal Refugee Resettlement Program, Mullaj helps political refugees by translating for them. In addition, she fluently speaks English, French, Dutch and Italian.
While assisting people, she remembers the days when she first came to the United States all by herself, knowing only one person.
"They didn't have anybody else to speak (for them), and they have no English (skills)," she says about refugees. "How difficult it must be? I remembered myself and how it was hard for me. It was the payback time."
In one of those payback times, Mullaj spent three days during spring break last year at Tucson Medical Center staying with a 7-months-pregnant Albanian woman. The woman had complacency in her pregnancy, she says.
"I was the only interpreter and only Albanian student. I stayed in a chair for 72 hours without any sleep," Mullaj says. "But she is alive and her son is alive. "
While studying in Belgium three years ago, Mullaj was so taken by her class in international finance that she wanted to further pursue it in the United States. Then, she remembered a Tucsonan friend, who she had known at her high school in Brussels.
This friend was Seneca Rautenberg, an animal sciences senior who is also graduating this semester. Soon, the friends moved in together, shared pieces of life, and studied together at the UA.
"When I was in Europe, she did everything for me. Then, she came here and lives two years with me," Rautenberg says. "We are from two completely different points in the world but yet we are graduating from the same college at the same time, and that is amazing."
Though Mullaj didn't have many friends when she arrived in Tucson, she quickly made friends with almost anybody she met.
"She spreads herself pretty thin, but she is so energetic," Rautenberg says. "She loves life, and she is constantly on the go."
Mullaj is the first member of her family to come to the United States. This week, her mother and two cousins will visit for her graduation, but Mullaj is not returning home with them - at least, not yet.
While interning at international finance company Merrill Lynch, she was offered a permanent job.
"I am a traveler and go to places," she says. "I love to be in different countries, and I don't have problems with adjusting.
"I was 16 when I decided to go to Belgium, and (at) 20, I passed across the ocean - I would never change it for anything," she says. "Everybody should visit a country where they don't speak the same language."