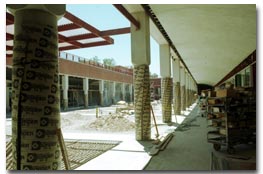 KEVIN KLAUS
Construction on the underground Integrated Learning Center is projected to be completed June 1 when UA faculty plan to move into the 119,032 square-foot facility. Students have not had access to the UA Mall area surrounding the structure since the fall of 1999. From this angle, the roof of Bear Down Gymnasium can be seen above the railing. A walkway connecting the ILC to the Main Library is out of sight directly behind the shadowed pillar.
Arizona Daily Wildcat
ILC and student union construction close to completion after nearly two years
UA students will soon see the rewards of dealing with two large university construction projects that have been underway since fall 1999.
The Integrated Learning Center, a 119,032 square-foot underground learning facility, and a new 400,000 square-foot student union, are nearing their structural completion.
Janet Fore, head of the undergraduate services team that will oversee the Integrated Learning Center, said students will soon be repaid for their patience with the construction project.
"The gates will come down and the palm trees will once again line the UA Mall," Fore said, borrowing a quote from Lynne Tronsdal, vice president of undergraduate administration.
The ILC project still has a June 1 completion date, although equipment will continue to be installed inside the underground facility throughout the fall semester, Fore said.
North Cherry Avenue, which has been closed since construction began, will re-open for north- and southbound traffic on May 15. By that time, trees will have been replanted along the bike paths of the Mall, and grass will have been reseeded.
Jennifer Ryan, a political science junior, said even though the construction has been an inconvenience for her, students will benefit from the change.
"I'll be happy to see it come to an end," Ryan said. "The campus didn't always look its best during the construction, but they have to update and change things every so often."
Another UA construction milestone occurred in April, when the ribbon was cut on the first completed portion of the new student union.
The UofA Bookstore, as well as ASUA and student services offices, were moved into this new section.
Gilbert Davidson, project manager for the student union construction, said the construction on the eastern portion of the facility continues and that a mid-June completion date for that phase is still anticipated.
This section will house the union food services and other services, such as the FastCopy and CatCard offices.
Davidson also said the new portion will also have features that the old portion does not have, such as retail stores, a bank, and a hair and tanning salon.
Demolition on the old facility will not begin until late summer, when all asbestos has been removed from the building, Davidson said.
He added that the western portion of the UA Mall, south of the existing union and east of Old Main, will be closed off sometime after July 8 to house construction equipment and vehicles.