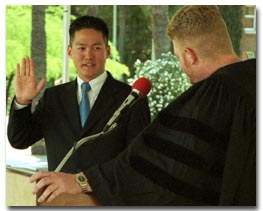 BRYAN TROLL
ASUA Supreme Court Chief Justice Jess Walsh swears in Executive Vice President Sam Chang last week at the student government inaugurations on the UA Mall. Chang will oversee club funding and chair the weekly Senate meetings.
Arizona Daily Wildcat
Legislators will plan CatFest, fall club fair and improve advising
Although some ASUA senators joked that they did not accomplish anything during their year in office, Senate member Brian Seastone proved them wrong by commending them for their achievements and dedication.
He listed the Computer Center for Information Technology forum, the Big Event, the Designated Drivers night, online voting, the student bill of rights and founding a basketball team for underprivileged children as their biggest accomplishments.
Reflecting on these achievements, Seth Frantzman said he was proud he was involved with changing football seating to include general admission seats as well as replacing the old ASUA suggestion boxes on campus with an online suggestion box.
Seastone praised this year's Senate for acting with professionalism, integrity and an undying commitment.
Rebecca Broky said she would like to see Designated Drivers night continued because of its good potential.
Roby Schapira said he would work on promoting his student bill of rights and responsibilities to the Tucson city government, the parents and alumni associations and the faculty senate during the summer.
Former Executive Vice President Erick Negri said he thought this year's Senate had a lot of firsts.
"This Senate used its veto power and called four special meetings when not one has been called in 12 years," Negri said. "I am also pretty sure this Senate broke a record for hours spent in Senate meetings. They really showed that they were here to do something."
Former President Ben Graff said he was especially proud of his administration's work on CatFest as well as bringing the Counting Crows for a campus-wide spring concert.
"The Counting Crows is something the students really wanted," Graff said.
He said he was also proud of the $1.9 million secured to improve academic advising next year, the five-year contract with DM federal credit union to give annual $1,000 grants to UA clubs and organizations and the creation of online voting for the organization's spring elections.
During the April 25 Senate meeting, the last of the year, each senator took time to express thoughts about the year.
"This is the most aggressive student government I have worked with," Gino Duran said.
Schapira said his experience in the Senate helped mold his identity.
"I am a different person now then I was at the beginning of the year," Schapira said. "This experience has profoundly changed me."
He added that he was proud of his work on club funding.
"I am satisfied with the job I have done this year," Schapira said. "I didn't do what I set out to do, but I did what was expected. I've always wanted to exert myself and I finally did it and now I am very, very tired."
"You have started a path others can follow," Seastone said to the senators.
At the 2001-2002 Senate's first meeting last Wednesday, ASUA President Ray Quintero, Executive Vice President Sam Chang and Administrative Vice President Tricia Williams received approval from the Senate for their cabinet appointments.
"I am very excited about my new cabinet," Quintero said. "It should add a new diverse focus to ASUA."
Chang said the new cabinet appointments will begin working as soon as possible because some of the positions required summer committee meetings.
ASUA summer government will be planning CatFest and a fall club fair, as well as allocating funds for academic advising and awarding club funding.
Quintero said his cabinet members are already working on securing sponsorships for CatFest and the next step would be to get a contract with a band.
Among the other projects the summer governance will work on is planning how to effectively use the advising funds, Quintero said.
Some of this year's senators say they hope their projects will be continued through the summer into next year.
Three senators - Jennifer Reece, Doug Hartz and Jennifer Patze - along with the three executive officers and the treasurer will hold meetings twice a month during the summer.