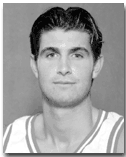 photo courtesy of Arizona Sports Information Department
Ricky Anderson
Arizona Daily Wildcat
The UA basketball team's hopes of a national championship are partly pinned to its roster's depth. However, the Wildcats' lineup may just be too deep for junior swingman Rick Anderson.
Anderson is considering spending the 2000-2001 season as a non-medical redshirt, according to UA associate head coach Jim Rosborough.
With two preseason All-Americans (junior forward Richard Jefferson and sophomore guard Gilbert Arenas), as well as sophomore forward Luke Walton likely ahead of him on the depth chart, Anderson's playing time will likely be severely limited.
Anderson, who averaged 4.5 points per game last season also has highly touted freshman Travis Hanour and 1999-2000 redshirt Lamont Frazier to split minutes with this year.
Anderson was unavailable for comment but Rosborough said that the decision will probably not be made until just before the Wildcats' first game against Marathon Oil on Nov. 5 and is hinging upon many factors.
"He'd like to spend a year working on his skills and putting on weight and right now may be the best time, but we'll have to see," Rosborough said. "Ricky's interests are with what's best for the team. If it looks as if we can afford not having him, then he'll likely take the year off. But if after evaluating the team these first few weeks and if it seems we need him, he'll be playing."
Under NCAA guidelines, non-medical redshirts can practice with the team throughout the season, but cannot play in any preseason or regular season games.
However, at any point during the year, Anderson could opt out of his redshirt status to join the team.
"If five guys go down with injuries in the middle of the Pac-10 season, Ricky could come off the redshirt and start playing for us," Rosborough said
Regardless of the decision, Anderson will be able to participate in Midnight Madness on Oct. 13 and the team's Red-Blue Scrimmage on Nov. 1.
Those two events are technically team practices and will further aid the final determination on his status.
"This is something that is no great secret, it is certainly being discussed out in the open," Rosborogh said. "Ultimately it is going to be a collaborative decision. Coach, staff, family, Ricky - they'll all play a part in the decision."