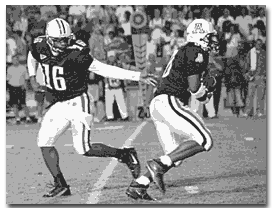 ERIC M. JUKELEVICS
Arizona senior quarterback Ortege Jenkins hands off to sophomore running back Leo Mills at Arizona Stadium. The Wildcats will play USC tomorrow in Los Angeles.
By Maxx Wolfson
Arizona Daily Wildcat
Wildcats trying to extend win-streak
With most Arizona students taking midterms this week, the UA football team will face a test of its own tomorrow when the Wildcats play Southern California in Los Angeles.
"I think this week will be kind of a midterm exam," UA head coach Dick Tomey said. "We are playing a team, in their home, that is highly talented and that's coming off a loss that is just going to be wired to play. It will be a good test."
The Wildcats (3-1 overall, 1-0 Pacific 10 Conference) are riding a two game win streak after dominating last year's Pac-10 champion, Stanford, 27-3, in Palo Alto, Calif.
"I think it is a team (Arizona) with some momentum and some confidence," USC head coach Paul Hackett said.
Arizona will enter the game featuring a defense - the double-eagle flex - ranks in the top-20 nationally in rushing defense, scoring defense, total defense and turnover margin.
"The weakness is what they give," USC senior running back Petros Papadakis said of the UA defense. "They dare you to do certain things."
The Arizona defense has also impressed Hackett.
"Defensively it is such an unusual style of defense," Hackett said. "It gives everybody fits, but the guy who really jumps out is Lance Briggs.
"He is bringing a lot of energy to the table. It is just one of those defenses that you love to watch because you are trying to find out what the heck they are doing because whatever they are doing they are doing it very well."
Briggs, a sophomore linebacker from Sacramento, Calif., leads the Wildcats in tackles with 38 of them and has one interception this season.
"Our team is playing with a lot of effort, a lot of heart and a lot of passion," Arizona senior linebacker Antonio Pierce said. "We are going to go out there and show them we are not the same team we were last year.
The UA defense will need to control USC sophomore wide receiver Kareem Kelly, who gave the Wildcat cornerbacks fits last year, catching six passes for a 100 yards in the 31-24 loss to Arizona.
"They have never had anyone quite as fast as he is," Tomey said. "He is a legit 10.2, he has legitimate speed, there is no one in the conference other than (USC running back Sultan McCullough) who is as fast as him."
Arizona freshman cornerback Michael Jolivette, who had the tough task of covering Stanford's DeRonnie Pitts last weekend, will have his hands full with Kelly.
"Well you have to just play the game," Tomey said. "I mean Jolivette and (freshman cornerback David) Hinton can really run, but they don't run quite like that."
Throwing the ball to Kelly will be sophomore quarterback Carson Palmer.
Palmer comes into the game having completed 76 of 126 passes for five touchdowns and five interceptions.
"I think he is playing in a very average fashion," Hackett said. "He is playing like a typical sophomore who has had half a dozen starts, and he is playing erratic."
Offensively, Arizona is going to continue rotating running backs - freshman Clarence Farmer and sophomores Larry Croom and Leo Mills.
Arizona must be successful on the ground in order for the passing game to excel against a tough Trojan defense.
After a rocky start UA senior quarterback Ortege Jenkins has completed 42 of his last 68 passes for a completion percentage of 61.7.
"The offense got a big boost with the play of Ortege Jenkins (against Stanford)," Hackett said. "It looked to me like he was more into his rhythm and throwing the ball and running."
For the Wildcats grades will be handed out at the Los Angeles Memorial Coliseum, tomorrow, at 12:30 p.m.