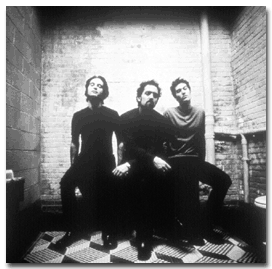 Photo courtesy Tonic.
Alternative rockers Tonic plays tomorrow night at the campus-area club The Rock. Tonic is known for such songs as "You Wanted More" and "If You Could Only See."
By Ty Young
Arizona Daily Wildcat
Rock group to play in Tucson tomorrow night
When New Jersey native Dan Lavery graduated from the Rutgers University School of Engineering in 1990, he was not sure where his degree would take him.
He certainly did not plan on playing bass with the alternative-rock band Tonic.
In college, Lavery played cover tunes with his band True. It was with them that he realized that his dreams of performing could actually take flight.
"My major was electrical engineering, and if you ask anyone in that program they'll tell you there isn't a lot of time to do anything," he said. "I spent a lot of time studying - I spent a lot of time fucking off too - but I always had a group with my friends."
When Lavery and his band-mates decided to try their hand in the music world, they up-rooted themselves from New Jersey and traveled to Los Angeles.
They were quickly discovered by Paul Rothchild, who had also discovered and managed acts like The Doors and Janis Joplin.
The notoriety would be short-lived, though, as True broke up in a record company merger.
While this was unfortunate, Lavery said, it opened up the doors for his future. At the time, Rothchild's son Dan was playing bass in the then up-and-coming band Tonic. When he left in 1996, Tonic frontman Emerson Hart called Lavery and asked him to be the replacement.
Lavery said the band, which was formed in 1994 by Hart and drummer Jeff Russo, has seen many changes as it continues to forge into the mainstream. The group's soul-searching lyrics and stage presence have helped Lavery get in touch with the emotions that dictate his own life.
"I find that playing music and performing music to be very emotionally fulfilling, and a therapeutic thing for me as well," he said. "It's about bettering yourself and making others feel good, you know? You start wanting to put into words and into song something (that deals with) the more adult-type situations that you get into, like a love interest."
With Sugar, the band's second studio album in three years, Lavery points to an evolving band that has embraced the feelings and experiences from both members' relationships with themselves and others.
"I think we've stayed along that same path, but just after touring for three years straight and producing our own albums and writing our own songs, we've just gotten better at it," he said. "I think the development hasn't really changed or the ideology, it's just the maturation of the existing principles."
This maturation, Lavery said, is prevalent on Sugar. With releases "You Wanted More" and the title track firmly entrenched in the Billboard Top 10, Tonic has eclipsed expectations created by its last album, Lemon Parade.
"It's been a maturing process. There was always a high importance placed on song-writing and musicianship," Lavery said of Lemon Parade. "We really didn't look back at the last record at all. We more or less looked back at the last three years of our lives on the road, or at home doing some other recording or promotion. In a lot of cases (the songs) are metaphorical for something bigger."
Tonic plays tomorrow at The Rock, 136 N. Park Ave., at 8:30 p.m. Tickets for the 21-and-over show are $12 in advance and $15 at the door.