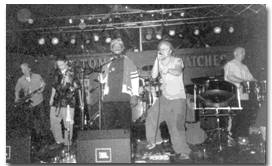 Photo courtesy Stuck in a Groove.
Local reggae group Stuck in a Groove is one of 71 bands that will perform at this weekend's Fall Crawl, the sister of Tucson's annual local music festival, Club Crawl.
By Phil Leckman
Arizona Daily Wildcat
Reggae band urges music fans to check out local music year-round
As one of Tucson's most high-profile live music events, Fall Crawl represents a chance for bands to reach a large audience that does not normally spend much time investigating local musical offerings.
But there is more to Tucson music than Fall Crawl - Tucson is home to a vibrant, music scene, featuring dozens of bands such as Stuck in a Groove.
"Fall Crawl is a huge deal, but sadly, it's the only event that gets the full attention of students to go out and see local music," said UA communication senior Tom Weinert, singer and guitarist for Stuck in a Groove, a reggae-influenced combo. "We want to get that crowd out to support local music on a continuous basis."
The band - which also includes keyboardist and University of Arizona graduate Wes Brewer, UA music seniors Casey Rabe on trombones and Justin Berry on saxophones, bassist Matt Brein, drummer Tim Ford and Jamaican-style dancehall rapper DJ Avaska - has been entertaining Tucson audiences since 1997 and is currently producing its fourth studio album.
With three current UA students and one recent graduate in the band, support from campus audiences has played a major role in Stuck in a Groove's career so far.
"The UA community has been the main support of the band since we started," said Weinert. "They're heavy at our shows when school is in session."
The band regularly plays bars and clubs around campus, including a regular Thursday night gig at Gentle Ben's, 865 E. University Blvd.
The audience at Stuck in a Groove's live shows can expect a high-energy, diverse performance highlighting the band's huge reggae influence, Weinert said.
The band's music ranges from circa 1970s roots and dub to the latest dancehall sounds, courtesy of DJ Avaska, a Jamaica native who has performed with some of reggae's greats.
Stuck in a Groove brings all these styles to bear in a quest to keep its audience on its toes.
"We break out the dancehall when the crowd is really hot and dancing, then bring it down with dub and roots sounds," said Weinert.
Weinert said he hopes that fans attending the band's Fall Crawl show will remember that live music in Tucson happens every day, not just one night a year.
"We're really trying to build the live music scene here in Tucson," Weinert said. "Tucson has great potential - great venues, good people. There are nights when the crowds are great, but we just need to keep it going."
Stuck in a Groove appears on the outdoor stage at O'Malley's, 247 N. Fourth Avenue, at 11 p.m. tomorrow.