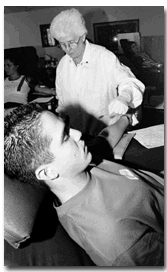 MATT HEISTAND
Undeclared freshman Martin Rovira gives blood while registered nurse Adele Ruboyianes helps out yesterday afternoon at Kappa Sigma. The blood drive was part of a campus-wide effort to help the city of Tucson.
By Mindy Jones
Arizona Daily Wildcat
Extra publicity, effort helped raise more pints for Tucson
The controversy over a "bloody" college challenge took a backseat to the lines of people waiting to donate at yesterday's drive.
The American Red Cross returned to the University of Arizona campus to collect the last of the pints included in last week's blood-drive challenge with Arizona State University.
The challenge was slated to end Friday, but ASU officials were upset earlier this week when UA decided to continue its blood-drive efforts until Thursday
The event, held yesterday at the Kappa Sigma fraternity house, 1423 E. First St., was part of a campus-wide philanthropy effort to help the city of Tucson, he said.
"They have less than a 24-hour supply of blood on hand for the residents of Tucson," said Sam Chang, Kappa Sigma philanthropy chair and a business junior."We will do anything we can to help, considering the UA is a primary source of donations for the American Red Cross."
Although there was a strong showing yesterday, the Red Cross officials said they don't have any totals yet.
Rosary Carpio, a certified nursing assistant, wrapped up blood bags at both drives and noted that there were differences between last week's challenge and yesterday's Kappa Sigma event.
"We were running out of supplies at the fraternity house, and we had to call in extra staff to help the eight we already had working," she said. "The guys here are really dedicated to helping us out."
Carpio added that the fraternity seemed to be doing a good job of recruiting people to donate blood and publicizing the event around campus.
Kappa Sigma has not held a blood drive in its house since 1995, but they have participated in co-chairing similar events around campus, Chang said.
All UA sororities and fraternities were notified about the blood drive, Chang added, and were encouraged to participate.
Angela Bonaventura, a communication sophomore and Alpha Phi member, said she heard about the drive at her sorority chapter meeting.
Bonaventura said she was impressed by the Red Cross's idea to give "beanie bears" to patients in the pediatric ward at the University Medical Center.
The white bears inscribed with the Red Cross logo will be given to patients along with greeting cards filled out by the donors.
"I don't think we should focus on the petty competition issue (between ASU and UA)," Bonaventura said. "We are just giving blood and putting smiles on little kids' faces."