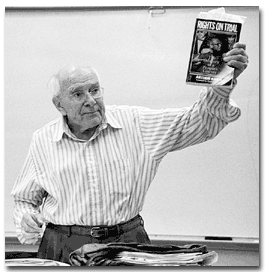 ERIC M. JUKELEVICS
Professor of law at Rutgers University School Arthur Kinoy guest teaches at the UA Law School yesterday. The cover of "Rights of Trial," the book Kinoy wrote, has the photograph of when he was dragged out of the congressional committee on the charge that he violated the law for using loud and boisterous language in the committee.
Arizona Daily Wildcat
Student demand brought Arthur Kinoy back to university
A prominent civil-rights attorney shared his courtroom experiences with UA law students during the past two weeks.
Arthur Kinoy fought legal and political battles against Joseph McCarthy and the U.S House of Representatives Un-American Activities Committee. He also worked to protect the rights of organized labor unions and was a civil-rights lawyer in Montgomery, Ala. during the boycott years of civil-rights activist Martin Luther King Jr.
Kinoy, who graduated from Columbia University in 1947, was a law professor at Rutgers University School of Law and has traveled the country to speak with law students.
UA law students requested that Kinoy return to the UA after a lecture he gave last year.
"He was here by popular demand, "said Toni Massaro, the UA Law School dean. "Immediately after the lecture, I had students at my door who made requests for him to return."
Kinoy was at the UA to teach a two-week colloquium available to law students that ended yesterday.
"Professor Kinoy has had a huge influence on aspects of life we take advantage of today like civil rights, desegregation, equality and abortion," said Lori Feinberg, a second-year law student.
Yesterday's class focused on the trial of the Chicago Seven and Bobby Seale, famous cases against the organizers of the demonstration at the 1968 Democratic National Convention in Chicago. Kinoy advised defense lawyers for both cases. After the defendants were convicted, he played a major role in the appeal to the 7th Circuit Court of Appeals in Chicago in 1971 where they won unanimously.
He also spoke about the affirmative action program that he helped start at Rutgers University School of Law in New Jersey. Geared toward minorities, women and lower-class whites, it was the first affirmative-action program of its kind in the country. It also spurred New Jersey state legislation that allocated a percentage of state grants for small companies owned by minorities or women.
He discussed his arrest in 1966 at the House Un-American Activities Committee meeting after he objected to a refusal to permit him to cross-examine a witness when he was representing members of the anti-Vietnam War movement.
He described how he was dragged out of the committee on the charge that he violated the law for using loud and boisterous language in a congressional committee. His arrest led to about 20 of his colleagues representing him in court where he was found guilty and fined $5. At the appeal trial, the number of colleagues had jumped to 50 and the decision was reversed.
However, "the appellate court opinion still stated that I was loud and boisterous," Kinoy said.
He told his class that "one of the skills you all must learn to be a lawyer for the people is how to be loud and boisterous."
He said the duties of a "people's lawyer" are to protect the fundamental rights of the people and to fight for the preservation of the U.S. Constitution.
He said some of the issues that were important for lawyers today were the possible federal limitation of habeas corpus, the government's failure to stop the harassment of black religious figures, women's right to abortion, equality for gays and lesbians and affirmative action.
Students gave Kinoy a standing ovation at the end of his class and presented him with two notebooks of letters they wrote about his two-week course, as well as a sweatshirt and a hat.
"He was very inspirational. He spoke to us about our future as lawyers," said Amy Ruskin, a third-year law student. "It was wonderful. The things he has done are amazing."