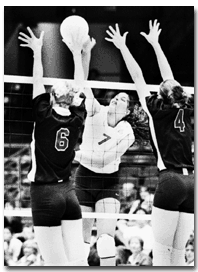 KEVIN KLAUS
Senior outside hitter Alison Napier spikes a ball this past Saturday night against Arizona State at McKale Center. Napier - who sang the national anthem prior to the game - finished the match with a career-high 34 kills.
By Brian Penso
Arizona Daily Wildcat
Wildcat senior has career night
In last Saturday's victory over Arizona State, UA senior outside hitter Allison Napier led the Wildcats to a share of their first-ever Pacific 10 Conference title.
Before the match, the senior also led the crowd in the singing of the National Anthem.
"It was something that I always wanted to do," Napier said. "I was nervous, but it is something that I will never forget."
According to UA head coach David Rubio, the match may have been the best of her career.
Napier finished the match with a career highs in kills and total swings.
She finished with 34 kills on 79 swings to go with a .329 hitting percentage and contributed with 10 digs, three aces, and four total blocks.
"Ally was as good of a player that I have seen in the conference," UA head coach David Rubio said. "She was just awesome."
Players realized the importance of Napier in last weekends match.
"Leadership-wise, Ally carried us the entire match," sophomore middle blocker Stefani Saragosa said.
נננ
Saragosa, who recently returned to the team after a two-week absence due to tendinitis in her right arm, has seemed to finally find her rhythm with junior setter Dana Burkholder.
"A lot of teams lately have not been respecting me since I have come back from my injury because I have been struggling," Saragosa said. " You could not ask for anything prettier from Dana. All I had to do is hit it."
Saragosa finished the match with 14 kills to go with a match-high .480 kill percentage.
After gelling in the first few matches of the season, Burkholder and Saragosa had not been back in sync until just recently.
"At the beginning of the season, we were clicking," Burkholder said. "When she came back, it was a process. I think we are now clicking again. She is definitely a weapon for our team."
נננ
Last Saturday's McKale Center attendance was 3550, the second largest crowd of the season.
"I was shocked at the size of the crowd," Rubio said. "It is probably one of the largest crowds we have had outside of (playing prior to UA basketball's) midnight madness."
Saturday night's admission was free to anyone wearing red, which added to the overall atmosphere of the arena.
"This is the first time I have seen so much red," Rubio said. "We have never had a game like that in my nine years. It was great to win in front of all our fans."
Brian Penso can be reached at sports@wildcat.arizona.edu.