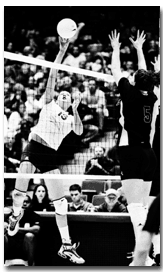 KEVIN KLAUS
UA sophomore outside hitter Lisa Rutledge delivers a kill against ASU this past Saturday at McKale Center. After a mid-season slump, Rutledge has elevated her play to help the Wildcats capture their first-ever Pac-10 title.
By Brian Penso
Arizona Daily Wildcat
The Arizona volleyball team has its share of big-name players - senior middle blocker Marisa DaLee, senior outside hitter Allison Napier, and junior setter Dana Burkholder are locks to be named all Pacific 10 Conference selections.
In gearing up to neutralize UA's "big three," opponents tend to overlook sophomore outside hitter Lisa Rutledge, who has overcome a sophomore slump and is fast becoming a presence in Arizona's lineup.
When the season began, Rutledge was trying to repeat a freshman year in which she logged 296 kills en route to an All Pac-10 freshman team selection.
Entering the 2000 season, the sophomore was expecting big things of herself. "My big goal this season was to be unselfish," Rutledge said. "I wanted to really work hard for the team's goals."
While the sophomore's work ethic remained intact, Rutledge found herself in a midseason slump that all but ruined her confidence.
"There were times that I was really upset about it," she said.
While Rutledge was shaken by her inconsistency, UA head coach David Rubio remained confident that the sophomore would eventually find her rhythm again.
"When Lisa is forced with adversity, she never gives up," Rubio said. "She is a fighter. Lisa just fights through anything she is faced with in order to become a better player."
Rutledge managed to break out of her slump during Arizona's come-from-behind victory against No. 9 Florida on Nov. 7.
Down two games to zero, it appeared as if the Gators were in line to upset the No. 5 Wildcats. Arizona, buoyed by a resurgent Rutledge, fought back to win the match in five games.
Rubio finished the match with 18 kills which earned the respect of her coach.
"It was really great to see the way Lisa battled," Rubio said. "She really took over and fired up the rest of the team in our comeback run."
UA players were supportive of the sophomore despite her slump.
"Lisa was thinking instead of playing," Burkholder said. "I still never lost confidence in her. I just kept feeding her the ball."
Since the match with Florida, Rutledge has been consistently improving, Rubio said.
In UA's pivotal win over UCLA two weeks ago, Rubio saw "the complete package" from Rutledge.
"For the first time, Lisa was playing great offense as well as great defense," Rubio said. "Her play was just fantastic."
Throughout the season, Rutledge has looked to Napier for guidance and credits the senior for helping her improve throughout the season.
"I look at Allison and see how consistent she is and how she works," Rutledge said. "She has shown me what it takes to become a great player."
The sophomore also credits Rubio for her resurgence.
"He has totally turned my game around," Rutledge said. "He has taught me tactics and mental strategies that have helped me amazingly."
With the Wildcats entering the postseason, Rutledge will need to play a key role in Arizona's success in order to make a run at a national championship.
"When she is playing well and terminating balls, it allows me to be much more creative in the play calling," Burkholder said.
While Napier, DaLee and Burkholder may win postseason awards, Rutledge may be the key to Wildcats' postseason.
"When she is playing good, everyone seems to play well," sophomore middle blocker Stefani Saragosa said. "She gets really excited when she plays good and her energy definitely feeds off onto the rest of the team."
Brian Penso can be reached at sports@wildcat.arizona.edu.