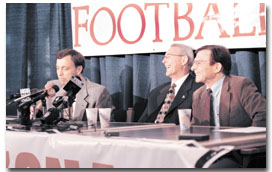 AARON FARNSWORTH
UA athletics director Jim Livengood (left), newly appointed head football coach John Mackovic (middle) and UA president Peter Likins share a laugh during a press conference held yesterday morning. Mackovic comes to the UA after six years as head coach at the University of Texas and, most recently, an ESPN analyst.
By Ryan Finley
Arizona Daily Wildcat
UA needs to win Rose Bowl, new coach says
The search to replace Dick Tomey took 10 days.
John Mackovic, an ESPN analyst, was hired as the University of Arizona's 26th football coach yesterday pending approval of a five-year contract by the Arizona Board of Regents.
Mackovic, 57, replaces Tomey, who resigned following the Wildcats' 30-17 loss to Arizona State on Nov. 24 after 14 years at the helm of the UA program.
Mackovic - who served as UA's offensive coordinator from 1973 to 1976 under head coach Jim Young - said he was excited to be back in Tucson.
"I finally feel as if I have come home," he said in a press conference yesterday. "It has truly been an exciting week for me to have the prospect of coming back to Tucson and back to the University of Arizona, a place where I started as a young coach."
UA players said they were surprised by Mackovic's hiring.
"I thought it was going to be (Washington associate head coach Steve) Axman, but (the UA athletic department) said that we were all wrong," freshman safety Clay Hardt said. "It's really neat to have a coach now. I've seen (Mackovic) on TV, and that part is really exciting."
In a press conference last Wednesday, Jim Livengood, UA athletic director, said that the next UA head coach must be committed to both academics and athletics, including the implementation of a high-powered, progressive offensive scheme.
Livengood said yesterday that Mackovic meets all of the UA's standards.
"He cares about all the right things," Livengood said. "He understands and knows what is important in the game of football. It's not just 'X's' and 'O's', but he's pretty darn good at that, too. He has a passion - a burning desire - to get back into college football and coach young people."
Mackovic said that his main goal as the new UA head coach is to qualify for - and win - a Rose Bowl.
The Wildcats are the only team in the Pacific 10 Conference who have never attended the New Year's Day game, which historically pits the Pac-10 winner against the Big Ten champion.
"If you put the right things together and do the things that need to be done, you can attract the right student-athletes," he said. "The next step for the Arizona football program is to go and win the Rose Bowl."
In Mackovic, the UA has hired a coach with a pedigree that includes head coaching stints with Texas, Illinois and the Kansas City Chiefs of the National Football League.
In 13 seasons as a college head coach, Mackovic is 85-64-3 and was the National Coach of the Year in 1979 while at Wake Forest.
"Everyone else was compared to John, and no one was able to measure up to what he was able to offer," Livengood said. "I am not here to tell you he is a saint, but he is exactly what this football program and university needs."
The UA's announcement comes just two days after Arizona State University named former Boise State head coach Dirk Koetter its new head coach. Koetter, who had been widely rumored as a candidate for the vacant UA job, backed out of an oral commitment with Oklahoma State before signing with ASU.
Mackovic - who said he planned on calling the UA's offensive plays while retaining an offensive coordinator - has a history of coaching talented players.
As quarterbacks coach for Tom Landry and the Dallas Cowboys, Mackovic worked with former ASU quarterback Danny White.
In his college tenures, Mackovic tutored Mark Hermann at Purdue, Jeff George at Illinois and - more recently - Heisman Trophy winner Ricky Williams while at Texas.
"I have been an offensive-minded coach in the past, and I will be here, as well," Mackovic said. "I think one of the biggest things is to be a balanced program with a good kicking game and defense."
Mackovic called his appointment as UA head coach "bittersweet" because Tomey - one of his friends - has left the program.
"The sad part is that my great, great friend Dick Tomey is no longer the coach here," he said. "I don't have anyone that I feel more strong about as a coach and a friend than Dick Tomey."
Ryan Finley can be reached at sports@wildcat.arizona.edu.