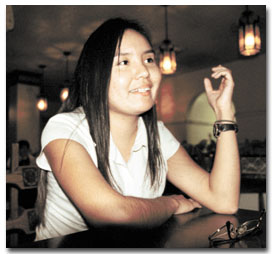 AARON FARNSWORTH
Civil engineering senior Sherrie Stanley discusses her balancing of college life and traditional family values at Sonora Cafe in the Memorial Student Union Nov. 27. After three years at the UA, Stanley will graduate this semester with a degree in civil engineering.
By Erin Mahoney
Arizona Daily Wildcat
American Indian student works to find balance between culture, academia
In a tiny rural town on Arizona's Navajo reservation, Sherrie Stanley's family and flock of sheep are waiting for her to come home.
Nearly 300 miles away, in a corner of the UA's Memorial Student Union, Stanley is thinking about them, too.
"They're struggling," explains Stanley, a civil engineering senior and a full-blooded Navajo. "I feel so much like I have to be with my family and take care of livestock and land...I'm trying to decide which path to go down."
Like thousands of other college students graduating next week, 23-year-old Stanley is uncertain about her future. She's overwhelmed with last-minute chores - mailing graduation announcements, finding a job, taking finals and with preparing to move on.
But unlike many of her fellow graduates, Stanley grew up on the Navajo reservation, where almost half the population lives without electricity and running water, and where cultural and community ties are more sensitive than most.
Stanley - who spent her girlhood raising sheep and doing homework by kerosene lamp - says she feels torn between her traditional past and life at a metropolitan university. Even her engineering career, which will include designing water and sewer systems, conflicts with Navajo tenements, which abhor disrupting the earth.
"You have to transition from this life to that life," she says. "It's so hard."
Karen Francis-Begay, director of the UA's Native American Student Affairs office, says she sees such dilemmas often . For this reason, her organization provides counselors to help students who feel discouraged or disloyal toward their traditions.
"It (college) is a big step in terms of removal of family and community," says Francis-Begay, who is also a Navajo. "We have identified people who can give that advice."
But sometimes counseling isn't enough. When Stanley transferred to the UA three years ago from Yavapai College in Prescott, she says she faced a culture shock.
"I didn't have a mentor, I didn't have anyone welcoming me here," Stanley says. "It was so new to me."
With UA's enrollment hovering around 35,000 - nearly six times that of Stanley's hometown, Kayenta, Ariz. - she said it was difficult to connect with other American Indians.
And so, after being voted 1999's Miss Native American U of A, Stanley founded Native American Partners for Success, a program that creates peer mentors for American Indian freshmen.
The bi-weekly NAPS meetings draw about 40 students who gather to discuss everything from cultural to financial struggles.
"I've been there...where it (school) is just overwhelming," Stanley says. "It's good to hear them (other American Indian students) discussing it. Stuff like that makes me feel like I'm important in someone's life."
Yet, despite mentoring services at many colleges, American Indian graduation rates remain lower than those of any other race. Although about 14,000 American Indian students are enrolled in college, only about 5 percent persist long enough to earn bachelor's degrees, according to the U.S. Department of the Interior.
About 700 American Indian students attend the UA, but the retention rates aren't much higher. Only about 18 percent of American Indian freshmen in 1993 earned their degrees by 1999, compared with the university average of 52 percent, according to last year's University of Arizona Fact Book.
These numbers are nothing new to Stanley. Although 15 people from her reservation high school enrolled at the UA, she is among only three who remained to get a diploma.
"I want to prove to people that I can make it," she says. "I don't want to be one of the statistics."
Francis-Begay says UA officials have long been frustrated with American Indian retention rates. She added that cultural and family struggles aren't the only issues native students deal with.
"We can't really pinpoint that it's (caused by) one particular issue," Francis-Begay says. "It does range from a lack of financial resources to trying to adapt to the setting."
For Navajo families, adjustment to college life doesn't always stop with the student.
Highly traditional families sometimes pressure their sons and daughters to return to the reservation, Francis-Begay says.
Those like Stanley's mother -who do not speak English and have never left the reservation - regard college life as foreign.
"She doesn't understand what this side is like," Stanley says. "She's
supportive but she doesn't understand."
In a 1997 study, researcher Kathryn W. Shanley noted that many American Indians fear that outside influences - whether jobs, education or spouses - will dilute their heritage. For this reason, Shanley says, those who have spent significant time outside their reservation communities are not always accepted back.
When she returns home to visit, Stanley says some members of the tribe are unsupportive and resent her "foreign" education.
"It shouldn't be like that, but it is," she says softly.
Stanley's boyfriend, Jay Logg, says he is impressed with Stanley's diplomacy.
"She handles it very well," says Logg, a Navajo who lives in Window Rock. "It's very hard to live both lives. It's really hard to differentiate between your own culture and what society's thinking. I'm proud ...(for) what she's been through, where she's at now. "
But Stanley's challenges won't stop with her college diploma. After she graduates next week, her family expects her to return to the reservation. Instead, Stanley plans to move to Phoenix and spend a year working in an engineering firm there.
After that, she will enroll in graduate school at the University of New Mexico - something she still hasn't told her family.
"When I go home, there's so much I have to deal with," she says. "I (hope that) if I continue to do what I want, I won't have doubts, and I won't be overwhelmed."
But Stanley intends to settle permanently on the reservation after graduate school.
"I want to build a better lifestyle for my mother," says Stanley, who hopes to design better water and sewer systems for rural Navajos. "I really have missed the reservation. Just to come to a place where you can't look out the window and see sheep... you miss that."
But not all Navajo students are able to find a job on the reservation, Francis-Begay says, which can create friction within the tribe and family.
"There is that sense of families wanting them to come back, and there's a great need for them to come back right away," she says. "The reality, though, is that it doesn't happen right away...there's not always the job opportunities there for them."
Marie Saltclah, an education specialist for the Navajo Nation Scholarship Office in Window Rock, denied that the tribe pressures students to return.
"The Navajo Nation's goals are to provide education to students," says Saltclah, who has counseled Navajo students for 25 years. "My advice is to do it (education) for themselves, not for anyone else."
Still, guilt is a factor even for those - like Francis-Begay - whose families accept and encourage their lives off the reservation.
"I have felt that sense of guilt and that sense of wanting to go back," she says.
Stanley won't let herself feel guilty yet - she doesn't think she has a reason to. Her personal goals and interests, although they are pursued miles from the reservation, revolve almost entirely around the tribe.
In the coming years, she wants to improve her knowledge of Dine, the Navajo language, and she hopes to learn rug and basket-weaving from traditionalists on the reservation.
In the meantime, she's working on two non-profit organizations: in one, she hopes to link Navajo youth with their tribal elders; in another, she wants to combine cultural and academic activities to help reservation high-schoolers prepare for college.
"It (college) has really opened my perspective, that I could help people," Stanley says. "I've learned there's a lot of things a person can do."
Still, as she works on packing and on finishing her internship with the City of Tucson's transportation department, Stanley says she's learning to be kind to herself, as well.
"I'm really thinking about...how to fit everything into my life," she says. "I was so set on going back to the Navajo Reservation. But I'm not ready yet. I need some time to myself."
Erin Mahoney can be reached at erin.mahoney@wildcat.arizona.edu.