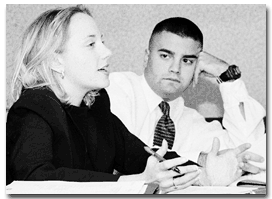 ERIC M. JUKELEVICS
Sen. Gino Duran (right), the newest member of the ASUA Senate, listens to Sen. Tricia Williams speak to the senators last week about online elections. Duran was appointed by President Ben Graff two weeks ago when Danielle Roberts left the Senate due to pregnancy.
Arizona Daily Wildcat
Need to communicate main lesson learned from Fall Ball
UA's student government leaders will be the first to admit they haven't fulfilled all their campaign promises yet - but they seem to be pleased with the work they have accomplished and look forward to a new semester to complete even more.
From Fall Ball 2000 to a McKale Center survey, from losing a senator but gaining a new one and trying to win the recognition of the University of Arizona community, the Associated Students say they have plenty to be proud of.
Last spring, when the cabinet and senators ran for positions in ASUA, they each promised certain projects and programs for the student body that they hoped to fulfill during their year in office.
"Everything is a work in process," said ASUA Executive Vice President Erick Negri. "Campaign promises cannot be made overnight, so more obvious results will be seen next semester by the students."
Negri said many of the senators have begun to take steps in their campaign promises and are making sure they are producing something for the students that isn't just thrown together.
"We want the projects to be solid, and so they are being thorough with everything they do," he added.
As promised, Negri began the VIC forums - Voicing Issues in Clubs - to teach all campus clubs about ASUA and the Appropriations Board process. Two VIC forums were held this semester, and Negri said they were beneficial and will continue in the spring.
Negri also saw to it that senator reports would be available to the students on the ASUA Web site so any interested student would always be aware of ASUA's projects and programs.
One of ASUA's biggest projects was Fall Ball 2000, an idea proposed by Sen. Matt Bailey to hold a campus-wide formal in November. Due to low ticket sales, Bailey was forced to "pull the plug" on the event after President Ben Graff vetoed an attempt by some of the senators to continue the project.
Graff said his veto was the first by an ASUA president in more than eight years.
Bailey said he hopes to see Fall Ball take place next year, and will use summer orientations to advertise and promote the event.
"Communication is an aspect we can learn from Fall Ball," Bailey said. "We need to make sure everyone is always on the same page and working together."
Sen. Tricia Williams said because one of her campaign promises was to establish ASUA recognition throughout the UA and Tucson community, she became involved in a project to reach out to those communities.
About 10 different UA groups, including ASUA, took part in an "adopt-a- family" project sponsored by the Blake Foundation in Tucson. Formerly known as the Cerebral Palsy Foundation, the organization works with low-income families.
"My own family has always adopted a family for the holidays, so the project was close to my heart," Williams said.
The groups who adopted a family provided them with a Thanksgiving meal - turkey, cranberry sauce, stuffing and pumpkin pie - and baskets of canned goods.
Williams said she is planning on pursuing another campaign goal next semester to work with the UA Parents Association to get donations for the Escort Service.
With more funding, Williams said, the Escort Service would be able to extend its boundaries and purchase more vehicles.
"The more money and vehicles we have...it's less time that someone is standing alone on a street corner in the dark," Williams said.
Another senator who said she is happy with her successful semester is Sen. Kristel Miller. She is proud of her biggest accomplishment: extending the Park Student Union hours from 8 p.m. to 11 p.m.
Miller said when she ran for the Senate, she had also hoped to fix the clock tower on campus, but she was told by UA President Peter Likins that it would be too expensive to fix something that was going to be torn down. So, now she is focusing on coordinating all the classroom clocks.
Next semester, Miller will also be working on a roommate-matching program for incoming freshmen. So far, she has been working with Residence Hall Association and researching ideas.
"We have had a very positive semester...but we can always do better," she said. "We all have different opinions, but our debates never got ugly."
After serving as the executive vice president of about 26,000 undergraduate students, Negri said his job is exactly what he has anticipated.
He said he is eager to see the senators wrap up their individual projects and all other ASUA projects by the end of the school year.
Maya Schechter can be reached at maya.schechter@wildcat.arizona.edu.