By Dan Komyati
Arizona Daily Wildcat
Monday Feb. 25, 2002

Pitcher sets consecutive victories record with win against Cal State Northridge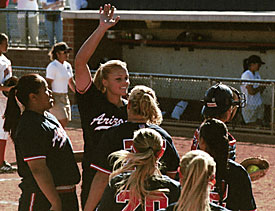 KEVIN KLAUS/Arizona Daily Wildcat
Senior pitcher Jennie Finch acknowledges her appreciation of the crowd after winning her 51st consecutive game yesterday. Her consecutive-wins mark is now the NCAA record for a winning streak by a pitcher.
After all the hype, Jennie Finch is just glad it's over with.
The senior pitcher earned her 51st straight win yesterday against Cal State Northridge to establish a new NCAA record for consecutive victories by a pitcher.
The historic victory was the third of the weekend for Finch during the Worth Wildcat Invitational, and broke the mark set by Florida State's Rebecca Aase's 50-win streak from 1991 to 1993.
"It's awesome and everything, but it's nice to get it over with," the smiling All-American said minutes after her historic win.
"I tried to treat it just like any other game; we want to win every game, and it doesn't matter if I'm on the mound or not."
With a near-capacity crowd filling Rita Hillenbrand Memorial Stadium for yesterday's matchup, it was business as usual for Finch throughout the 6-0 victory.
She began the game striking out two of the first three Matador batters she faced, and scattered only three singles in the win.
With the game well in hand in the top of the seventh, Finch retired the first two batters of the inning to bring the Hillenbrand faithful to their feet.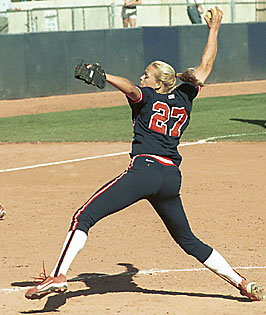 Arizona Daily Wildcat
---
"It's significant and it's nice. But it doesn't even come close to the team goal of winning a national championship."
- Jennie Finch senior pitcher
---
After two quick strikes to Northridge outfielder Sondra Milchiker - with chants of "Jennie" echoing throughout the crowd - Finch blazed a high fastball past the sophomore for the final out and sent the Wildcat fans into a frenzy.
As Finch's teammates ran to congratulate her, the senior walked toward home plate and waved thanks to the capacity crowd.
"The crowd was great, that was awesome," Finch said.
After her fifth consecutive shutout in a 10-0 decision against San Jose State on Friday, Finch faced her only real test of the weekend during the first inning of Saturday's matchup with Northern Iowa.
With two outs she allowed a two-run home run and trailed on the mound for the first time since the season's opening weekend. It was the third time this season that Finch allowed a first-inning home run - and like both times before, the senior bounced back in dominant fashion.
Northern Iowa failed to record another hit against Finch, and the stage was set for yesterday's record-shattering performance.
"I tried to put it in the back of my mind, but sometimes it's a little hard for me," Finch said about the recent attention fans and media have placed on the milestone.
While the victory came during a tournament dominated by the home team, Finch's achievement is even more impressive considering the quality of her opponents throughout the streak.
The streak spanned nearly two perfect seasons of play within softball's dominant conference, and includes three straight wins during last season's College World Series, earning Finch Most Outstanding Player honors.
In his 17th year as head coach, Mike Candrea has coached some of the greatest teams and players in NCAA softball history. He said that Finch's recent perfection is among the most impressive individual achievements that he has witnessed during his tenure.
"It's tremendous when you think of how she had to do it," Candrea said. "When it involves two World Series and Pac-10 play, it's pretty phenomenal."
Assistant coach Nancy Evans - the winningest pitcher in Arizona history - knows first-hand how difficult Finch's accomplishment
"It's not easy; otherwise, everyone would do it." Evans said. "She's done all the things she needs to do to be a great pitcher.
"She's on a roll - we just hope she keeps on going."
Finch has been rolling for quite some time now. The senior's last loss came against then-No. 4 Arizona State on April 21, 2000.
But it will be meaningless to Finch if that ends up as the last loss of her career unless her team can repeat as champions in her final season.
"It's significant and it's nice," Finch said of her latest record. "But it doesn't even come close to the team goal of winning a national championship."