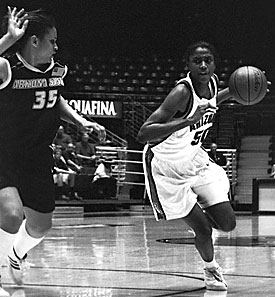 MATT CAPOWSKI/Arizona Daily Wildcat

Senior UA center LaKeisha Taylor drives past an Arizona State defender Saturday in McKale Center. In her last home game, Taylor led the Wildcats to a 72-66 victory against the Sun Devils.

By Lindsey Manroel
Arizona Daily Wildcat
Monday Feb. 25, 2002

Women's basketball team defeats Sun Devils for seniors

To Joan Bonvicini, Saturday's rematch with Arizona State was more than defending her home court.

That's because the last time these two teams met, the UA head coach remembered hearing an ASU player say on national television that Arizona doesn't like to play defense.

"I took that personally," she said. "Our team really wanted to win here. Records go out the window, and it's about winning and putting it on the line."

Appropriately, the Arizona women's basketball team gave its two seniors, forward Elizabeth Pickney and center LaKeisha Taylor, a way to remember their final game in McKale Center with a 72-66 win over ASU.

"It was a very momentous moment," Taylor said. "It made it more special for the seniors because our families were here. It's very exciting."

Taylor could not have asked for a better performance than the one that aided her team in victory.

The UA center scored 13 points and grabbed six rebounds.

"Thank goodness for LaKeisha," Bonvicini said. "I thought she had a great game."

The other half of UA's twin towers - Pickney - had an unusually quiet game.

The Sun Devils held UA's top scorer to just four points in 19 minutes of play, after averaging 16.8 points per game throughout the season.

The Wildcats set the tempo for the majority of the first half, leaving ASU to play catch-up in the second half after trailing UA 40-33.

UA extended its lead to 10 points, 47-37, with slightly over 14 minutes remaining in the game.

ASU could not seem to find its momentum.

"We didn't play Sun Devil basketball," ASU head coach Charli Turner Thorne said. "We had too many uncharacteristic flaws."

The Sun Devils would cut UA's lead to 51-45 with just under 12 minutes left in the game, but it wouldn't be enough to complete the sweep.

Sophomore Aimee Grzyb showed the Sun Devils that UA is a team that likes to run.

Grzyb said she had just one thing on her mind, revenge, which she demonstrated with a 16-point performance.

"Because we were playing a rival, all we wanted was revenge," she said of the team's 87-64 loss to the Sun Devils on Dec. 30. "We wanted to show people that we were better than what they think."

Sophomore guard Candice Allen got the starting nod over junior guard Julie Brase.

Allen scored 15 points and grabbed six rebounds.

If the Sun Devils thought Arizona didn't like to play physically, they would be mistaken after Saturday.

The Wildcats out-rebounded ASU 41-36.

With the regular season behind them, the Wildcats will head into the Pac-10 Tournament in sixth place.