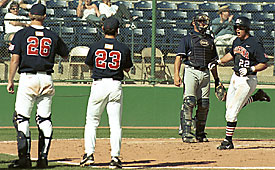 KRISTIN ELVES/Arizona Daily Wildcat

Arizona sophomore Marc Kaiser is greeted at home by teammates after his sixth-inning home run yesterday at Sancet Field. Kaiser hit his fourth home run in the Wildcats' 13-9 win against UC Irvine.

By David Stevenson
Arizona Daily Wildcat
Monday Feb. 25, 2002

It was a weekend of redemption.

Entering the series on a three-game losing streak, Arizona swept the University of California Irvine to give head coach Andy Lopez his 701st career win in his 20th season of coaching.

"I've been fortunate to have a lot of good coaches and a lot of good players. I've been thankful for the opportunity and I'm glad I did it in Arizona," he said.

Yesterday UA (14-4) pounded out 16 hits in a 13-9 win to clinch its fourth series sweep on the season.

Sophomore left fielder Marc Kaiser went 5-for-5 with a home run and four singles, all in response to heated words from the Anteater bench.

"They came out talking a lot of stuff to me in pregame, (but) I feed from that," he said. "I wish every team would do that to me, because it lights a fire and gets me going."

Because of tightness in his shoulder, Kaiser was scratched from making his fourth pitching start of the season and was moved to left field.

He then capped an outstanding weekend going 9-for-14 - a .643 average - with three home runs and five RBIs.

Saturday the Wildcats won 7-6 in 10 innings on a two-out game-winning single by shortstop Brad Hassey, who overcame a tough day.

The senior was thrown out at home, picked off of second by the catcher and had four errors on the day.

In the top of the 10th, UCI (8-8) took a 6-5 lead on a play that featured two Hassey errors.

With Anteaters on first and second, Hassey booted UCI center fielder Jon Horwitz's grounder behind second.

Hassey chased it down in shallow center but whirled home a throw 6 feet above the head of UA catcher Chris Cunningham.

Irvine pinch runner Chris Szabo easily scored on the play that allowed Hassey to inflict some self-responsibility.

"I kind of felt like if we lost that game it would be more of my fault than the team's," he said.

However, Hassey singled home pinch runner Pat Reilly in the 10th to finish the two-run rally win and make his horrific day into a heroic one.

"That was redemption in the last inning. It made me feel better and made our team feel better with the win," he said.

Friday Arizona won the opening game of the series 14-4 behind two home runs by Kaiser. Freshman right fielder Jeff Van Houten and second baseman Moises Duran each hit homers of their own to co-lead the team with four on the year.

Freshman Jason Snyder pitched 4 1/3 innings of relief to earn his first win. Sydner replaced sophomore starting pitcher Sean Rierson in the third inning when Rierson suffered a contusion on his forearm from a line drive.

He is listed day-to-day and is expected to not miss his next scheduled start.

After an off day today, Arizona will host New Mexico State tomorrow in a one-game series.