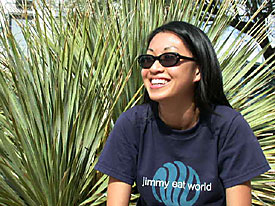 JON HELGASON/Arizona Daily Wildcat

Caroline Diep, general manager of KAMP, says she discussed her interview process with the casting crew of MTV's popular show "The Real World" last month. Diep was a semi-finalist for this season's edition of the show, and is being considered for roles for three other MTV productions.

By Lauren Eichenauer
Arizona Daily Wildcat
Monday Feb. 25, 2002

With a perfect smile, silky long black hair and vastly varied interests, there is no doubt that MTV saw Caroline Diep as a beauty with brains when "The Real World" casting crew held Tucson auditions at 8Traxx last month.

Diep, a molecular and cellular biology and art history junior, participated in the search for "Real World" contestants. She made it all the way to the semi-finals - not an easy feat. An estimated 3,000 contestants tried out for the coveted positions while Diep waited to audition from 9 a.m. to 1 p.m.

"I wanted auditioning for 'The Real World' to be one of the things I do before I die," Diep said.

Diep said she found the audition process to be an interesting experience. She met eclectic people who went to great lengths to get on the show.

"I saw so many different people (at the audition). Some came all the way down from Colorado, California and New Mexico just to audition," Diep said. "I saw a girl in hot pants and a little top, and it was freezing outside. She admitted to us later that she wanted to prove to producers that she was willing to go through anything, even brave the cold, to be on the show."

Diep said she believes that her Asian American character was a refreshing splash on the face to MTV producers.

While she was not chosen for this year's Las Vegas version of the show, Diep made such an impact on producers that she is being considered for three other MTV shows.

"I'm not an Asian stereotype that sometimes people think of as 'geeky' or 'nerdy,'" Diep said. "I think I gave them the impression that I was sassy and didn't take shit. They couldn't fit me into a pretty little box."

The 20-year-old Diep has a variety of hobbies and occupations which may have helped deepen the impression she made on the station.

For example, she leads KAMP student radio, as the station's general manager, with feminine flair and skill.

"Radio keeps me sane, and I love music," Diep said. "But I think girls in charge need to have more assertiveness. Unfortunately, sometimes that comes off as bitchy."

She has aspirations ranging from leadership to entertainment.

"I want to be the next Dr. Drew," she admitted. "In fact, I got a chance to meet him when he came to the University of Arizona with 'Loveline' and I told him, 'I am going to take your job in 10 years.' He said 'OK, see you in 10 years!'"

With characteristic balance, she mentioned humanitarian desires too.

"I would love to go to South Africa, because I really love the culture," Diep said, "and do what most people romanticize about. I want to really heal the sick and treat AIDS patients, and bring what I'll learn back to America."