By Angela Orlando & Adam Pugh
Arizona Daily Wildcat
Monday Feb. 25, 2002

Elvis quarters drawing controversy

Associated Press

Elvis Presley Enterprises has licensed a company to replace George Washington on some of Tennessee's 2002 quarters with a color illustration of the King of Rock 'n' Roll.

The coins, souvenirs honoring Presley on the 25th anniversary of his death, went into production this month through the International Collector's Society. The process fuses a color portrait of Elvis over Washington's face.

Pete Davidson, EPE senior licensing manager, said the British colony of Gibraltar mints Elvis coins as part of its currency, but the refaced quarter is the only option in U.S. currency.

Secret Service Agent Tim Viertel said defacing U.S. currency is a misdemeanor crime but the Elvis quarters are in a gray area because they are not part of a deceptive scheme.

"I don't know of a U.S. attorney's office around who would prosecute it," Viertel said.
---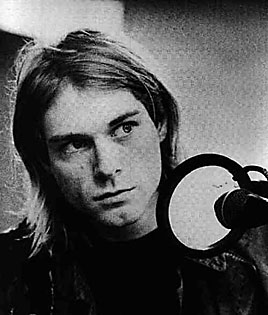 Kurt Cobain
Nirvana frontman
Kurt Cobain's diary to be auctioned off
Arizona Daily Wildcat
TIME.com said it expects former Nirvana frontman Kurt Cobain's journals to become bestsellers. Courtney Love, Cobain's widow, is putting the 800 pages of writing up for auction. Among the excerpts from the 23 notebooks are handwritten lyrics to "Smells Like Teen Spirit," notes about his depression and heroin addiction, and a list of his 50 favorite CDs during various periods of his life. Also in the journals is a list of "band rules" which indicate Cobain's sometimes astonishing levels of ambition. Cobain died in 1994.
---
Muse collaborates with VA, Arizona Inn
Arizona Daily Wildcat
In an exhibit entitled "Remembering the Past for the Future - An Exhibit to Commemorate U.S. Veterans," Muse, the Southern Arizona Veterans Administration Health Care System and Arizona Inn are collaborating to recognize veterans through art. The exhibit, which opens Thursday and runs until April 12, includes work done by and in honor of veterans, including art in the mediums of photography, poetry, paintings, furniture, portraiture, woodcarvings, sculpture and scrimshaw.
The Arizona Inn is donating handcrafted furniture made by disabled WWI veterans in the late 1920s and early 1930s. The furniture is still used today in the inn's guest and dining rooms, and a few seldom-seen pieces will also be displayed in the exhibit.
The Southern Arizona VA Health Care System is contributing black and white photography and has gathered veterans' literary and visual art pieces.
An opening reception March 9 will feature discussion by representatives of various veteran interest organizations. Admission is free to the exhibit and reception. For more information, call 903-0918.