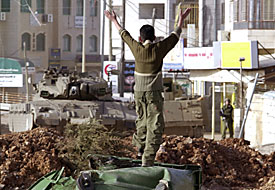 Associated Press

A Palestinian boy raises his hands to an Israeli soldier standing next to an army tank positioned near Palestinian leader Yasser Arafat's office during minor clashes in the West Bank town of Ramallah, Sunday, Feb. 24, 2002. Israel decided Sunday to slightly ease restrictions on Arafat, who has been trapped in his West Bank office for nearly three months. He will be allowed to move around Ramallah but may not leave the town.

Associated Press
Monday Feb. 25, 2002

JERUSALEM - Israel decided yesterday to draw tanks back from Yasser Arafat's compound but continue restricting him to the West Bank city of Ramallah - a halfway measure that led angry Palestinians to cancel planned cease-fire talks with Israeli security officials.

While the Palestinians had hoped that last week's arrests of three top suspects in the October killing of Israeli Cabinet minister Rehavam Zeevi might end Arafat's almost three-month-long confinement, Israel yesterday demanded again that they be handed over and that other suspects be arrested as well.

But an Israeli official, speaking on condition of anonymity, suggested yesterday's was only a preliminary decision, and also that Israel expected the security meeting to be delayed by only one day and held today. The Defense Ministry, meanwhile, said the army would exercise restraint in hopes of enabling a truce.

Arafat has been restricted to Ramallah since early December, shortly after a wave of suicide bombings in Israel. Tanks moved steadily closer to his compound, eventually surrounding it.

Israel's Security Cabinet, made up of senior ministers, said in a statement yesterday that such pressure caused last week's arrest in the West Bank city of Nablus of the three members of the Popular Front for the Liberation of Palestine, which claimed responsibility for Zeevi's killing in October.

Raanan Gissin, spokesman for Prime Minister Ariel Sharon, said Israeli tanks would soon be pulled back from Arafat's compound to unspecified new locations.

But Palestinian Cabinet minister Saeb Erekat maintained that this "changes nothing" because Arafat had been able to get around Ramallah already; in recent days he prayed at a mosque about a mile away and attended the opening of a play.

"This is a very terrible decision," said Erekat. "Why is it that every time we try to proceed with the peace process ... they make such decisions? We expected to hear a decision that will revive hope ... Enough trying to humiliate us!"

Dovish Israelis noted that Arafat's quarantine had not succeeded in lowering the violence that has raged since September 2000, killing 992 people on the Palestinian side and 283 on the Israeli side.

In announcing the decision yesterday, Sharon appeared to leave options open. He said "the closure around Arafat's headquarters in Ramallah will be lifted" but that "Arafat's departure from Ramallah will require a decision that would be brought before a forum according to the judgment of the prime minister."

Arafat hopes to attend an Arab League summit at the end of March in Beirut - and Israeli officials are concerned Arafat might turn that summit into a show of force and return with redoubled support for the 17-month-old uprising.

There is also some apprehension in Sharon's circles that the summit could lend momentum to an emerging Saudi proposal for wider Middle East peace in exchange for an essentially complete Israeli pullout from the West Bank and Gaza - an idea Sharon has fiercely opposed but Israeli doves are likely to embrace.

Sharon has repeatedly said that, in any case, no peace talks can resume until the violence has ended.

But Palestinian officials say they can do little toward this goal when Palestinians are enraged over actions that Israel calls reprisals but they see as aggression - and while their security forces are themselves targeted by Israeli attacks and constrained by travel restrictions.

They say they are making their best effort under the circumstances, and warn that the past days' efforts toward calm could be wasted as a result of the decision to continue confining Arafat to Ramallah.

Those efforts have been led by Defense Minister Binyamin Ben-Eliezer, who heads the moderate Labor Party, a partner of Sharon's Likud in a coalition government that is more amenable to giving up territory in exchange for a peace deal.

Ben-Eliezer met last week with Gaza security chief Mohammed Dahlan and other officials, and yesterday his spokesman, Yarden Vatikay, said the army was ordered "to act with restraint in its operations to give the Palestinians a chance ... to take steps against terrorism."

Gissin said the Israeli military was "not going to initiate any actions except intercepting suicide bombers if they come."

Over the weekend, the violence was at a somewhat lower ebb than in the past month: since Friday, one Israeli motorist and two Palestinians - at least one an assailant - were killed, and on Saturday an 8-year-old Gaza girl, injured in a helicopter strike on Palestinian targets last week, was declared brain dead.

In one of the incidents, a pregnant Palestinian woman was shot and moderately wounded early yesterday by an Israeli soldier after failing to stop at a checkpoint outside Nablus, the army said.

Her husband said the shooting occurred inside the city as he was driving her to the hospital and that it was dark when the shots were fired, and noted troops gave his wife first aid. The woman later gave birth to a healthy baby daughter.

In the Gaza Strip, a Jewish settler's car was hit by bullets, but no one was hurt.