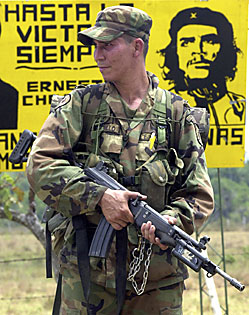 Associated Press

Colombian soldiers from the Rapid Response Forces arrive in the town of Vista Hermosa yesterday; 13,000 troops have been mobilized to reclaim the vast territory in southern Colombia that had been granted to the Revolutionary Armed Forces of Colombia, or FARC, as an incentive to end the country's 38-year civil war.

Associated Press
Monday Feb. 25, 2002

SAN VICENTE DEL CAGUAN, Colombia - Leftist guerrillas held a presidential candidate hostage yesterday after abducting her at a roadblock as she was driving into a volatile area of southern Colombia where government troops are trying to oust the rebels.

Sen. Ingrid Betancourt, an outspoken critic of the rebels, was being held along with her campaign manager, Clara Rojas, by the Revolutionary Armed Forces of Colombia, or FARC.

Betancourt's campaign spokeswoman, Diana Rodriguez, said the senator's entourage ran into the rebel roadblock Saturday afternoon as they tried to reach San Vicente del Caguan, the main town inside a rebel zone the government began attacking last week.

President Andres Pastrana had ceded the zone to the FARC in 1998 as an incentive to end Colombia's war. He called off peace talks and ordered the army to retake the zone after guerrillas hijacked an airplane and kidnapped another senator on Wednesday.

Three men traveling in the same car, including two Colombians and a French photographer on assignment for Marie Claire magazine, were detained for several hours Saturday and released.

French President Jacques Chirac telephoned Pastrana yesterday to express his "deep concern" over Betancourt's kidnapping. Chirac also spoke by telephone with U.N. Secretary-General Kofi Annan to ask him to try winning her release.

Betancourt is well known in France, where she spent her college years. She married a French diplomat, from whom she is now divorced, and published a best-selling memoir last year in French.

The FARC has not confirmed or denied it has Betancourt. There has been little word from rebel leaders since Pastrana called off negotiations with the 16,000-strong rebel army.

Betancourt's abduction outside the zone underscored how tenuous government control is in southern Colombia as thousands of troops creep slowly into a rebel stronghold of jungle and pasture. Officials say they warned Betancourt not to attempt the trip.

Airstrikes pounded hundreds of rebel targets on the first night of the campaign and troops reached San Vicente del Caguan on Saturday. But thousands of FARC fighters melted into the nearby countryside, popping out from time to time to set roadblocks.

Troops say they're moving slowly to avoid ambushes and minefields.