By Lisa Lucas
Arizona Daily Wildcat
Wednesday Feb. 27, 2002

Contrary to perpetual questioning, New American Roots musician Tony Furtado shares no relation with Grammy nominee Nelly Furtado.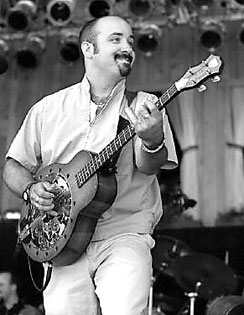 Photo courtesy of www.tonyfurtado.com
Furtado plays dobro-banjo at the 2000 Telluride Bluegrass Festival. The American Roots musician plays in Tucson this weekend.
While Furtado said he has listened to some of his same-surname musical counterpart's music, he said he finds it difficult to compare or contrast his own music with hers.
"I've heard some of her music and I like it," Furtado said of Nelly Furtado's tunes. "She's drawing from her cultural influences - where her family came from as well as where she lives in Canada."
Furtado added that his own influences originated in rural and "rootsy" styles.
"She (Nelly Furtado) has more urban influences, and I've got more rural influences," he said. "My thing is more American Roots; she's more of a singer/songwriter with a lot of urban pop."
Furtado said his interest in rural, less citified forms of music began to develop before he hit his teens. He said he has strived to remain outside of the stereotypical musician typecast ever since.
"I started playing the banjo when I was 12 years old," Furtado said. "I was attracted to it because it was an oddball (instrument) - I didn't want to pick up an instrument off the bat that everybody played. I wanted to be different."
While Furtado said his musical influences include the sounds of Appalachian folk, Irish-Celtic and old blues music, he added that he has also been influenced by more popular musical styles.
"Having grown up in the '80s in the San Francisco Bay area I was exposed to lots of pop and lots of rock, so I was just as influenced by that (as by other musical forms)," Furtado said.
He said his desire to be different and to apply different aspects of himself to his music has been an integral addition to his musical style.
"As a person, I can't just do one thing," Furtado said. "I love listening to different types of music, eat different types of food. I don't have ADD (attention deficit disorder) but I can't just stay with one thing forever. I have to explore all of my interests, and that carries over into my music. I've got to be myself."
He said not all musicians stick to this method of music-making.
"There are some people who only play blues or folk music or whatever, (but) I got tired of being typecast and stuck in a genre," he said.
It appears Furtado's stray from the norm has worked to his benefit.
A press release stated, "By integrating America's roots music - blues, jazz, Appalachian Folk, Celtic, rock - and his own progressive use of melody, rhythm and improvisation, Tony Furtado has proven himself a leader in the rapidly expanding New American Roots Music."
Furtado said there has been an increasing amount of interest in the New American Roots musical style since the last folk popularity wave in the '50s and '60s. He said he finds a great sense of New American Roots appreciation, especially among college students.
"I've played for a lot of college kids, but not necessarily at colleges," he said. "(In) college towns we tend to do really well; there's definitely more of an appreciation of rootsy stuff these days than there was in the mid-'90s by college kids."
The Tony Furtado Band plays Club Congress, 311 E. Congress St., Sunday at 9 p.m. Tickets are $8 in advance and $10 the day of the show. For show and ticket information, call 297-9133.