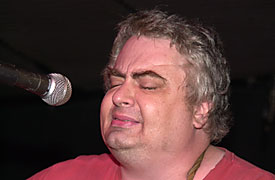 Photo courtesy of Fanatic

Daniel Johnston's music stems from a lifetime of struggling with mental illness and a desire for a normal life. He performs this evening at Club Congress, 311 E. Congress St.

By Carrie Stern
Arizona Daily Wildcat
Wednesday Feb. 27, 2002

If you're craving sappy songs, stay away from Club Congress tonight. Daniel Johnston sings about love, but you've never heard love songs quite like his before.

Johnston's music stems from an unusual perspective, often addressing the isolation caused by his mental illness, and his desire for a normal life. Although he has often been lumped together with other mentally troubled musicians such as rant-rapper Wesley Willis, he is of a different order altogether.

Whereas one could argue that the only thing interesting about Willis is his mental illness, Johnston's music is often genuinely moving, with a touch of underlying sadness. While Willis is loud and angry, Johnston's music is striking because of its innocence.

There is no ultra-hipness or meta-anything lurking when Johnston sings. His are heartfelt songs in the most literal sense.

Note the desolate and sad lyrics from his song "Living Life:"

"Hold me like a mother would/Like I always thought somebody should/Although tomorrow, it don't look that good."

"He's been sort of a sad spirit," said Steven Eye, director of Solar Culture Gallery and booker of Johnston's show at Club Congress, 311 E Congress St. "He has the whole unrequited-love thing going."

"The days go so slow/I don't have no friends/Except all these people who want me to do tricks for them/Like a monkey in a zoo," he laments in "Like a Monkey in a Zoo."

Johnston, whose songs have been covered by such diverse artists as The Dead Milkmen and Kathy McCarty, is one of a number of outsider musicians and artists who was embraced by audiences in the early 1980s. Other artists in that group include Willis and Johnston's fellow West Virginians Hasil Adkins ("the One-man Band") and Jesco White ("the Dancing Outlaw").

After a move to Texas about 20 years ago, Johnston used a low-fi boom box to record his songs of love, loneliness and religion. Sung in an earnest, reedy voice and self-accompaniment on guitar, piano, toy keyboard, and whatever else was at hand, the tapes became popular items in Austin, eventually being released in CD format.

Johnston's appearance in Tucson is a rare treat, given that his troubled mental state has prevented extensive touring.

"He's like a legend; we're very happy to be able to get him to Tucson," Eye said. "I don't even know if he's been to town before."

"It's really good to be here in Arizona. We love it. We had a big show (in Tempe) last night, and things went over well," Johnston said. "It was one of my best shows, and we're ready for a big show tonight."

Johnston will play tonight at Club Congress, with opening acts Sugarbush and Gary Bear. The show begins at 9 p.m., and tickets are $7.