Associated Press
Monday Mar. 4, 2002

EUGENE, Ore. - After a strong first half, the Wildcats scored only four field goals in the second half Saturday en route to a 66-58 loss to ASU and an early-round exit in the Pacific 10 Conference tournament.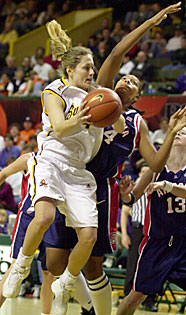 Associated Press
Arizona State's Amanda Levens, left, looks to pass under pressure from Arizona freshman Danielle Adefeso during the first half of their Pacific10 Conference tournament game Saturday in Eugene, Ore.
ASU's Amanda Levens sank her one basket in the game with steady confidence and a perfect follow-through, completely forgetting the nine clunkers that came before it.
Levens' jumper with 2:06 remaining gave Arizona State its first lead of the game, and Cian Carvalho tied her career high with 17 points as the Sun Devils rallied to beat Arizona.
"I just wanted the ball at that point," Levens said. "I had missed a couple shots, and I really didn't think about it at that point. It was a close game I was just able to take that shot."
Melody Johnson added 14 points and Carrie Buckner had 11 rebounds for the Sun Devils (22-8), who beat Oregon yesterday 64-58 in the first semifinal. Levens, ASU's leading scorer during the regular season at 17.1 points per game, ended the game 1-of-11 from the field and scored 10 points.
"They played good defense on me," Levens said. "And for a couple of shots I tried to work into our offense and try to get myself going. At that point, there was no reason to force shots, we've got other people on the floor that can score. On the second half, we focused on trying to get the ball to the open people."
Candice Allen had 19 points before fouling out with 30 seconds left, and Aimee Grzyb added 15 points to lead sixth-seeded Arizona (14-14). Dee-Dee Wheeler, the Pac-10 freshman of the year, shot 1-for-12 and scored two points, more than 10 below her average.
No. 6 Arizona shot 17 percent in the second half and 37 percent for the game, while the Sun Devils shot 30 percent.
"Welcome to March Madness," said ASU coach Charli Turner Thorne. "Every game is a tough game. Anytime you can shoot 30 percent and win, you have to be happy. We have been a team that has prided ourselves on defense and rebounding. That way, when we don't have a good shooting night, we can come out winners."
No. 3 ASU trailed by 10 at halftime, and entered the game with only a 1-7 record when trailing at the half. But the third-seeded Sun Devils won the game at the free-throw line, consistently drawing contact in the final 8:20.
Arizona State was last in free-throw shooting during the Pac-10 season at 65 percent, but the team made 18 of its last 20 from the line.
The Wildcats, who didn't make a field goal in the final 41/2 minutes, got one of two free throws from Allen to take a 55-53 lead with 2:21 left. Carvalho's two foul shots tied it at 55.
Then Levens, who has been bothered by a sprained left ankle the past two months and missed her first nine shots, stroked an open jumper with 2:06 left to put ASU ahead 57-55.
Levens' two free throws made it 61-58 with 54.5 seconds left, and Grzyb's short leaner rolled off the rim at the other end. Arizona didn't get another chance to tie.
"Obviously, this was a game of two halves," said Arizona coach Joan Bonvicini. "It was like two completely different games. In the second half, we allowed ASU to very physical, and we didn't fight back hard enough."
Arizona used a 10-0 run to end the first half ahead 36-26, but the Sun Devils cut the lead in half over the first few minutes of the second half. Carvalho converted a three-point play and Johnson hit a short baseline jumper.
The Wildcats built the lead back to eight on a 3-pointer from Grzyb, but UA made just three more baskets in the final 15:40.