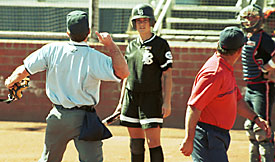 ERIC M. JUKELEVICS/Arizona Daily Wildcat

Head Coach Mike Candrea (right) was ejected from yesterday's softball game at Hillenbrand Stadium against Long Beach State for arguing strikes and balls. This is the first time in his 17 years as a coach that he has been kicked out of a game.

By Dan Komyati
Arizona Daily Wildcat
Monday Mar. 4, 2002

Diamondback's Luis Gonzalez among Wildcat supporters

Maybe there is a professional playing career ahead for senior softball ace Jennie Finch after all.

After throwing her second no-hitter of the season in an 8-0 five-inning blanking of Evansville Saturday night, one big league "scout" was in awe of the Wildcats All-American.

Comfortably seated behind home plate for Saturday's nightcap was Arizona Diamondbacks all-star and World Series hero Luis Gonzalez.

"I probably couldn't (hit her)," Gonzalez joked about Finch, whose NCAA-record winning streak reached 53 games. "We're going to sign her to a contract and make her our No. 5 starter."

Finch (13-0) and her teammates continued their early season dominance with another 5-0 tournament record during the Hillenbrand Invitational this weekend.

It was the third consecutive tourney sweep for the No. 2 Wildcats (23-2), and their Hillenbrand Memorial Stadium winning streak now stands at 63 straight victories.

Finch also belted a towering two-run homer to center Saturday against the Purple Aces (11-11), and junior Lovie Jung and sophomores Jenny Gladding and Leneah Manuma added long balls of their own to supply the offense in the 8-0 victory.

While no big leaguers attended yesterday's contest against Long Beach State (17-8), head coach Mike Candrea was ejected from the game by home plate umpire Mike Bartling after arguing the strike zone during the first inning.

It was the first time in Candrea's 17-year career that he was thrown out of a game at Hillenbrand.

The 49ers also felt Bartling's wrath when first base coach Kim Sowder was tossed from the contest several pitches later.

With Candrea observing things from beyond the Wildcats bullpen in left field, his squad fell behind Long Beach State 1-0 in the third inning.

Gladding allowed a bloop single just beyond the reach of second baseman Lisha Ribellia to score Christina Zepeda. The run was all the 49ers could scratch across against Gladding, who would allow just two hits while striking out 12.

The Wildcats took control of the game during the bottom half of the fourth inning after a walk, bunt single and a hit batsman loaded the bases.

Assistant coach Larry Ray - who took over in Candrea's absence - then went to his bench and inserted freshman outfielder Candace Abrams as a pinch hitter.

Abrams promptly delivered the first pitch she saw from Long Beach State's Lindsey Knoff just inside the left field foul line for a bases clearing single.

"I knew what the girl was throwing, and I hit it well," said Abrams, who had a breakout weekend with six hits. "When I'm called upon, I have to do my job. It doesn't matter to me (if I'm starting or not)."

After the game, Candrea complimented the preparedness of his redshirt freshman while he continues to mix and match five freshmen in the outfield.

"(Candace) is sometimes more valuable for us to be able to bring into situations cause she'll come in and swing the bat," Candrea said. "This weekend she played her butt off. She has really impressed me this year with just her attitude of coming in and working hard."

The Wildcats added a run in the fifth after sophomore catcher Mackenzie Vandergeest doubled to right-center field to score pinch runner Meaghan Finnerty and secure the 4-1 victory.

In their first game on Saturday, the Wildcats posted a 9-0 shutout against Eastern Michigan (3-10) - UA's third win in just over a week against the Eagles.

After Manuma clobbered a three-run home run in the first, the Wildcats broke the game open with a six-run sixth inning.

Gladding continued her recent power surge with a three-run blast of her own, and Abrams added a two-run single as well. Gladding was dominant again on the mound with nine strikeouts during the three-hitter.

Arizona set the tone for the weekend's action during an 18-0 bashing of Southern Mississippi (9-9) to begin play on Friday.

Vandergeest blasted a pair of home runs - including a grand slam - to lead the way with five RBIs. She was joined by Manuma, Abrams, Jung and freshman third baseman Jackie Coburn in the home run barrage, and Gladding threw another two hitter to earn the victory.

With three wins this weekend - and eight straight overall - Gladding (10-2) has matched Finch pitch-for-pitch of late to provide what might be the top pitching tandem in the nation.

"Gladding had great command (yesterday), she was getting ahead and throwing hard," Candrea said. "She needed a big game, and I thought Long Beach State was that type of team."

In a close matchup Friday night, Arizona handed Hawaii (12-9) a 5-1 setback as Finch scattered four hits while striking out nine. Gladding again was the star at the plate with an RBI single and a two-run home run.

The Wildcats continue their non-conference schedule when Boston College comes to town for games tomorrow and Wednesday at Hillenbrand at 6 p.m.