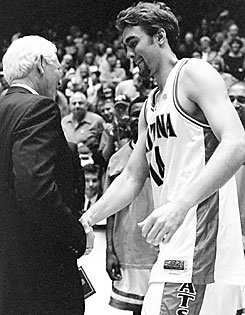 AMY WINKLER/Arizona Daily Wildcat

Senior forward Peter Hansen is honored by coach Lute Olson after the Wildcats' 99-53 win against California Saturday in McKale Center. Hansen is the Wildcats lone senior.

By Connor Doyle
Arizona Daily Wildcat
Monday Mar. 4, 2002

The last home game of the year for every college basketball team is Senior Night, because it's the final time those graduating will ever play on their home-court.

Saturday night, during Arizona's Senior Night, the team honored its lone senior - walk-on forward Peter Hansen, who is more known for blocking field goals on the UA football team than blocking shots on the basketball team.

However, with about eight minutes to go Saturday night and the Wildcats nursing a 40-point-plus lead over California, the students starting chanting Hansen's name to try to get Olson to put him in the game. They continued until there was less than three minutes left in the game and the lone senior finally got to play one last time in McKale Center. He scored two points - on freethrows - and blocked a shot.

It was a touching moment for Arizona fans, seeing one of their favorites leaving the court for the last time. The UA football players in attendance, who have chanted for Hansen all season, seemed to be the most proud of Hansen during his moment in the spotlight.

After the game in a ceremony for Hansen, the P.A. announcer informed everybody that, "it was players like Peter who made programs successful."

And he might be right.

"He's a real hard worker, and he's actually a pretty good basketball player," said associate head coach Jim Rosborough after the game. "The guys on the team just love him. He's been a great kid, and he's done a great job for his team."

Hansen was just thankful his teammates gave him an opportunity to play one last time, because if the game was close, he might not have had that chance.

"It was wild. It's been a blast playing and being able to contribute," he said. "Just the way the basketball team and the guys welcomed me has been special."

So, while Hansen's departure from the team was special, what may be even more special is the fact that Hansen is likely the only player who's going to be gone from this year's squad come next season - unlike last season when UA nearly lost its entire starting five.

The lone returnee from the starting five was junior guard Jason Gardner, who flirted with testing the NBA waters but came back to UA with something to prove this season. And many believe he succeeded, almost doubling his scoring average from a year ago and showing he could be a go-to guy on this team. So, many assume he will test the professional waters again. But not Rosborough.

"I don't think Jason's going anywhere," he said. "I think he understands we're going to be good next season, and deep down I think he knows he could use another year of college ball."

The fans at Saturday's game also seized the opportunity to make their opinion known, chanting "ONE MORE YEAR!" almost as loudly as they chanted Hansen's name.

But the fans could just as easily have been chanting to Will Bynum, the freshman from Chicago who has shown flashes of his athleticism, but has spent much of the season on the bench behind fellow freshman Salim Stoudamire. Rumors have been swirling that Bynum was considering transferring next season, another situation Rosborough said he doesn't think will happen.

"I'm almost positive that he's not going to transfer. Will likes it here, he loves his teammates, and he knows he has a good coaching staff that will help him become a better player," Rosborough said.

In both cases, no one knows yet what the future holds for Gardner and Bynum, and it's likely too early to start making predictions. But one thing is clear - if Gardner sticks around, Senior Night next season could be one to be remembered.