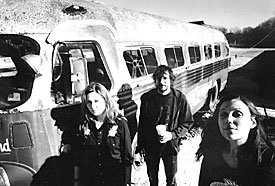 Photo courtesy of Joy Ride Records

Members of the Damnations stand before their tour bus. The mixed genre group performs tonight at 7 Black Cats, celebrating the upcoming release of its newest CD.

By Carly Davis
Arizona Daily Wildcat
Thursday Mar. 21, 2002

The Damnations is a great name for a band, with enough finality and nice hard consonants to conjure a variety of references. The term is part dogma and part Yosemite Sam cuss word.

It's also a somewhat popular name for a band, as the Texas-based group from Austin has discovered. These Damnations, however, provide enough variety and musicianship to erase all confusion. Their newest CD release should make that clear.

Deborah Kelly, one of the band's three vocalists, said in a 1999 interview with Rolling Stone magazine that the group has indeed grappled with its name.

"We shouldn't have been surprised to hear that there were other bands, because it's actually a generic name," she said. "But once you get used to a name, it's your identity. We tried to change it for a week and it didn't work. It's pretty traumatic for a band to have to change its name."

Heading north out of Flagstaff toward the Grand Canyon, Kelly professed her admiration for the physical beauty of Arizona.

"I love Arizona," she said into her cell phone. "Deborah has never seen the Grand Canyon; we have some time today and we are driving up there now."

The band played at the notorious South-by-Southwest and Twangfest festivals in Texas earlier this month and just finished recording its second release, Where it Lands, which will be in stores nationwide Tuesday.

"All Night Special," the first track of the album, is husky, roadhouse rock that Kelly's sister Amy Boone's delivery makes genuinely bluesy. And Boone and Kelly's harmonies on track five, "Steeple Full of Swallows," ascend into gentle, swaying melody.

Harmonies among family members are often of the highest quality, as Spectator Magazine noted in a recent article.

"(Kelly and Boone are) a pair that knows when to sing sweetly and when to get gritty," the article noted. "The Damnations come across a little like a righteous meeting between Neil Young and Lucinda Williams."

The group employs the usual guitar accompaniment but also plays unexpected instruments, such as the mellotron (an organ-like keyed instrument) and a lap steel guitar. Multi-instrumentalist Rob Bernard also plays banjo, enhancing the band's hillbilly sound.

"(When we create music) it's pretty much a group effort. Somebody might bring in a skeleton of an idea and then we all work on it. We all have our own influences," Kelly said.

The group's musical diversity may be an asset or a liability.

"There are so many bluegrass and country purists that would probably want to wring our neck," Boone told Rolling Stone. "We basically stick to rock venues that can handle the crossover type of thing."

Such a venue is 7 Black Cats, at 260 E. Congress St. Quality takes precedence over genre biases at the beer and wine lounge, so owner Bret Thompson books a variety of acts.

"(I book) straight rock, leaning towards indie labels and obviously local music," Thompson said.

In fact, Thompson is often able to book bands for a second go-around. The Damnations are touring with openers the Kirk Rundstrom Band, who Thompson and the venue invited to perform once before.

"I booked the Kirk Rundstrom Band in August, and he (Rundstrom) called and said that he was coming through with the Damnations," Thompson said.

"We are traveling all the way up the West Coast with Kirk's band, it is great to have other bands to play with," Kelly said. "We basically get to watch great free shows every night."

The groups perform tomorrow at 9 p.m. Admission is $5. For more information about the show, call 7 Black Cats at 670-9202.