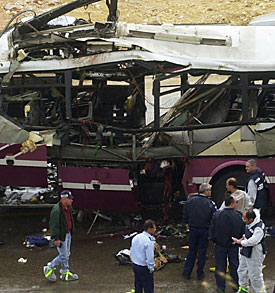 Associated Press

Police and rescue workers examine the scene of a bomb explosion on a bus near the Arab town of Um Al Fahem yesterday. A suicide bomber blew himself up on a packed commuter bus in northern Israel during morning rush hour, killing himself and at least seven passengers and wounding many more.

Associated Press
Thursday Mar. 21, 2002

JERUSALEM - An Islamic militant blew himself up in a packed bus during morning rush hour yesterday, killing seven other passengers - including four Israeli soldiers. Israel said it wouldn't retaliate for now and agreed to a crucial meeting with the Palestinians that could produce a cease-fire after 18 months of Mideast fighting.

U.S. mediator Anthony Zinni contacted Israeli Prime Minister Ariel Sharon and Palestinian leader Yasser Arafat to ensure that the delicate truce talks would not be derailed by the bombing near the northern town of Afula. The explosion, which blew gaping holes in the sides of the bus, also injured 27 people, many of them Arab Israelis.

Israelis and Palestinians have both hinted a truce could be declared as early as today. However, the militant Islamic Jihad group claimed responsibility for yesterday's bombing and said it would not abide by any cease-fire agreement.

"I had the honor to organize (this attack), and I want to tell the Israelis that as long as Sharon is killing Palestinians, we in Islamic Jihad will kill Israelis," said Mahmoud Tawalbi, head of the group in the West Bank town of Jenin.

The bombing pointed to a fundamental problem facing Israeli and Palestinian negotiators: how to prevent a future attack from unleashing a spiral of retaliatory violence that will swiftly cause a truce to unravel.

But Israel Radio, citing sources close to Sharon, said Israel would hold off on retaliation and would not cancel last night's truce talks in Tel Aviv, during which the Palestinians were to respond to Israel's proposed truce timetable. The meeting was convened in Tel Aviv late yesterday, Palestinian officials said.

The U.S. truce plan, written last year under the guidance of CIA director George Tenet, calls on Palestinians to "apprehend, question and incarcerate terrorists." Israel is prohibited from "attacks of any kind against Palestinian Authority facilities."

No specific mechanism is foreseen to prevent retaliation for an attack, and both sides will have to exercise restraint, said a diplomat, who spoke on condition of anonymity.

However, Israeli Defense Ministry spokesman Yarden Vatikay said there will be no provisions in the agreement for dealing with attacks. He said there can be no cease-fire if there are terror attacks.

Several previous cease-fires collapsed, and this month has seen the deadliest spurt of violence since the fighting began in September 2000.

"The patience of the (Israeli) public will not be able to hold out for another attack or two," said Israeli Labor Minister Shlomo Benizri.

Following yesterday's bombing, Sharon said Arafat bore ultimate responsibility for failing to prevent it. Arafat has "not moved away from a policy of terror, has not taken any steps and has not given any orders to stop attacks," Sharon said.

The Palestinian Authority denounced yesterday's bombing and said it was working for the cease-fire, which would require it to arrest militants, something it has been reluctant to do.

All groups should "refrain from carrying out any operations against civilians inside Israel," the Palestinian leadership said in a statement.

On Tuesday, Sharon said that if a cease-fire is in place, Arafat will be permitted to attend an Arab summit in Beirut next week, where a Saudi peace plan is to be presented that calls for establishment of normal relations between Israel and the Arab world in exchange for a return of all lands captured in 1967.

Presidents Hosni Mubarak of Egypt and Bashar Assad of Syria discussed the plan in talks in Cairo yesterday. They said in a joint statement they would work to persuade fellow Arab leaders to agree on a "unified stand" on the Saudi initiative at the summit.

While an Israeli-Palestinian cease-fire deal still appeared within reach, each side was looking to the other to take a big first step.

Israel said the Palestinians would have to immediately crack down on militants, including widespread arrests. The Palestinians said the Israelis would have to lift military roadblocks that have kept most Palestinians confined to their hometowns and villages.

Israeli officials have expressed doubt about the Palestinian Authority's ability to carry out its obligations, since militias, even those loyal to Arafat, have become increasingly powerful. Furthermore, Israel's punishing attacks have weakened the Palestinian security forces.

In yesterday's attack, the suicide bomber sat down in the middle of a crowded bus and blew himself up as the bus was traveling on a main highway on the outskirts of the Arab village of Musmus.

"People were blown out of the windows and were lying on the road on both sides of the bus," said bus driver Yosef Ben-Yosef. "Inside (the bus) dead and wounded people were lying everywhere ... It was ghastly, indescribable."

The bus stops at many Arab villages, and many of the wounded were Arab Israelis. Despite the virtual certainty that Arabs would be harmed, the attacker apparently chose the bus because he was able to blend in with its passengers. A large number of Israeli soldiers also travel the route.

Islamic Jihad identified the bomber as Rafat Abu Diyak, 24, and said the attack was revenge for Israel's killing of group members in recent military strikes. Israel's recent raids included an incursion into Diyak's hometown of Jenin earlier this month, aimed at rooting out militants.

After the attack, Diyak's father Tahseen accepted condolences at the family's home in a poor neighborhood in Jenin.

"Thank God for everything, my son will go to heaven," Tahseen Diyak said.