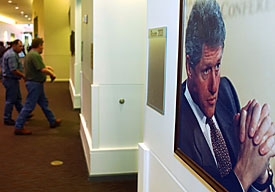 Associated Press

Visitors walk through a gallery at the Hot Springs, Ark., Convention Center March 11, where an exhibit of White House photographs made during Bill Clinton's presidency are on display. The exhibit, scheduled to run for six months, consists of 70 photographs that hung on the walls of the White House while Clinton was in office.

Associated Press
Thursday Mar. 21, 2002

WASHINGTON - Independent Counsel Robert Ray concluded in his final Whitewater report that the Clintons' land venture benefited from criminal transactions but that there was insufficient evidence to prove the former president or his wife engaged in wrongdoing.

The report, released yesterday, also said prosecutors could not rule out the possibility that Hillary Rodham Clinton played a role in the disappearance and mysterious discovery of her law firm billing records.

The five-volume report wrapped up a six-year investigation by three different prosecutors of the Clintons' finances and detailed the business transactions they undertook with partners Jim and Susan McDougal.

The McDougals were convicted of crimes and imprisoned in the Whitewater investigation in connection with a failed savings and loan they operated.

The report said Jim McDougal wrongly used funds from the failing S&L to benefit the Whitewater venture in Arkansas that he had created with Bill Clinton, then governor of Arkansas, and Mrs. Clinton, then a lawyer.

"Insufficient evidence exists to establish beyond a reasonable doubt that either Governor or Mrs. Clinton knowingly participated in the criminal financial transactions used by McDougal to benefit Whitewater," the report said.

The Clintons' lawyer, David Kendall, called the report "the most expensive exoneration in history. Their investigation was unprecedented in its seven-year length, $70 million expense and unremitting intensity. But it ends as it began: with no evidence of any wrongdoing by the Clintons." The investigation began in 1994 and ended in 2000.

Part of the investigation focused on a fraudulent $300,000 federally backed loan that a Little Rock judge claimed he was pressured by Clinton to make to the McDougals, who operated the failed Madison Guaranty S&L.

"Insufficient evidence also exists to prove beyond a reasonable doubt that Governor Clinton knew of or approved" the loan, Ray's report said.

"There is some evidence that Governor Clinton knew or should have known that Jim McDougal was not conducting Madison Guaranty's affairs as required by banking rules," it said.

The report related an incident in which the Arkansas banking commissioner told Clinton in 1983 that there were problems at Madison. The report said Clinton told the commissioner to do whatever was necessary and not to worry about politics.

The report also focused extensively on Mrs. Clinton's legal work on an Arkansas land development called Castle Grande that was being operated by Jim McDougal and partly financed by his failed S&L. The former first lady is now a senator representing New York.

Mrs. Clinton's legal work on the project wasn't disclosed until 1996, when her law firm billing records, which had been subpoenaed earlier in the case, were found in the White House family residence.

Prosecutors investigated whether there was an attempt to obstruct justice by hiding the records. The report said, "The evidence gathered could not exclude the possibility that Mrs. Clinton put the billing records in Room 319A." It noted that she gave sworn testimony "denying placing them in Room 319A or knowing how they got there."

Much of the evidence about Mrs. Clinton's activity as a lawyer for McDougal could have been laid out in a trial of her law firm partner, former Associate Attorney General Webster Hubbell. Hubbell avoided trial by pleading guilty to a felony.

The inspector general's office of the Federal Deposit Insurance Corp. concluded that Mrs. Clinton helped draft a legal document on Castle Grande, which was later used by the S&L to mislead federal bank examiners.

A panel of three federal appeals court judges that appointed Ray released the report about a year and a half after he announced his investigation had ended.

The $70 million investigation of the Clintons, which started in 1994, engendered bitterness in Washington and across America as Democratic defenders clashed with Republican opponents over the merits of the Whitewater allegations.

Whitewater came to light during the 1992 presidential campaign when The New York Times revealed that the Clintons had been business partners in a real estate deal with the McDougals, whose S&L's collapse cost taxpayers more than $65 million.

The Clintons said they lost money in the Whitewater venture.

The news stories triggered an inquiry by federal S&L regulators, culminating in a criminal investigation of the Clintons and successful prosecutions of their business partners and then-Arkansas Gov. Jim Guy Tucker for fraud in connection with various loans.

A succession of prosecutors looked into the Clintons' role - first Robert Fiske, then Kenneth Starr and finally Ray.

In an attempt to reduce his prison sentence, Jim McDougal cooperated with prosecutors. He died in prison, leaving investigators without their most important witness. McDougal's ex-wife, Susan, refused to cooperate with prosecutors. Clinton pardoned her just before he left office in January 2001.

In a separate report earlier this month, Ray contended he probably could have gotten a conviction against the former president in the scandal involving former White House intern Monica Lewinsky. On his last full day in office, Clinton avoided the possibility of criminal indictment by admitting that he "knowingly gave evasive and misleading answers" about his sexual relationship with Lewinsky. Clinton also surrendered his law license for five years.