Hundreds dropped from classes for not paying tuition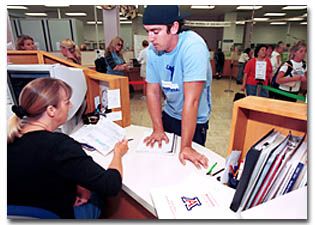 ERIC M. JUKELEVICS
Business sophomore Ben Mears receives help with his drop/add form from Janis Prochaska of the Registrar's Office in the Administration building Monday afternoon. More than 450 students were dropped from their classes Tuesday for failing to pay tuition on time.
By Cyndy Cole
---
ARIZONA DAILY WILDCAT
Thursday September 6, 2001
Monday the last day to re-register without $300 late fee
Four hundred fifty-seven students had their classes dropped late Tuesday for having outstanding tuition and fees, said Randy Richardson, interim vice president of undergraduate education at the UA.
Richardson said that as of Tuesday morning, 1,247 students had not paid, but 790 of those did so on the last day.
The 457 who did not meet the deadline will need to re-register for classes using a drop/add forms signed by instructors, and pre-pay tuition, including late or outstanding fees, Richardson said.
The last day to register for classes is Monday, except for students with extenuating circumstances, said Jean Johnson, Bursar's Office Associate controller.
Students who were dropped from their classes will receive notification via e-mail and postal mail sent yesterday, Richardson said.
Students whose classes were dropped will still owe 50 percent of their tuition if they do not re-register. Part-time students who re-register will owe 1 1/2 times their tuition, plus late fees.
The student financial aid office, which will offer temporary loans to cover tuition and cash needs until the end of the semester, provided 81 registration loans on Tuesday, said John Nametz, director of student financial aid.
As of yesterday, 35,479 students were enrolled, including 26,949 undergraduates, said Curriculum and Registration director Gary Wagner.
Although it has not been in effect for the last three semester, a similar, more rigid policy was enforced in fall of 1999. During that semester, 1,600 students were dropped as opposed to this year's 457, Richardson said.
After that semester, the university changed its policy to allow students to pay tuition throughout the semester as opposed to at the very beginning - a policy that has left bills still unpaid.
The new policy requires payment after classes have begun, as opposed to before the beginning of school as it was in 1999.
UA officials say they are seeing good results with this system.
"The main reason we waited (to drop classes for students who had not paid) until two weeks into the semester was to avoid the vulture culture of people waiting for other people to drop classes (to leave seats open for others)," Richardson said.
This year, students are already settled into the classes they have, and are not waiting for other students to drop their classes before they can add more, Richardson added.
In past years, students whose classes were dropped because they did not pay by the deadline had a tough time getting back into their classes.
This year, more students paid on time.
Eighty percent of students paid their registration fees due by Aug. 6, the due date," said university spokeswoman Sharon Kha.