Math students required to download books off Internet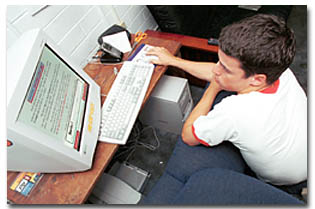 ERIC M. JUKELEVICS
Marketing sophomore Brian Taylor does his homework Monday at the Kappa Alpha fraternity house, 906 N. First St., on a computerized textbook program introduced to the UA in the spring. Students in Math 115a and 115b were required by their professors to purchase the necessary equipment to download the texts.
By Nevene Iskander
---
ARIZONA DAILY WILDCAT
Thursday September 6, 2001
Interactive texts introduced last spring by two UA professors
For students in two UA math classes, waiting in line for textbooks has become a thing of the past.
As of last spring, students taking Business Math 115a and 115b, in association with the University of Arizona College of Business, have been required to either download their textbooks from the Internet or copy them onto Zip disks - which can be bought at any office and school supply store for about $15 each.
Though it was recently integrated into UA curriculum, the computerized textbook program was co-developed four years ago by Richard Thompson, an associate professor in the UA mathematics department, and Christopher Lamoureaux, finance department head in the UA College of Business.
Thompson said he believes this is a better system for teaching because it integrates interactive computing with mathematics instruction.
"If a student has a question about stock options, there is a link that says 'click here' and it takes you directly to a Web site of a company that deals with stocks," Thompson said. "There are links that, if you have a question, say 'click here.' It's like a real-world connection."
Business sophomore Jeremy Dorfman said the on-line text "allows you to go back through and use the examples the professors have put on there - through the textbook."
He also said that there are two main reasons why computerized texts are more beneficial than a hardcopy text.
First, he said, the program gives students an advantage in that it acts as a means of electronic indexing for various parts of the Web.
Finally, Thompson said the math department "wants their students to learn this way," - electronically - in order to prepare them for the future.
Thompson said he has had, for the most part, positive feedback from the students taking the course.
Still, marketing sophomore Brian Taylor said he had mixed feelings about using the electronic text for class.
"It's good to learn how to use computers more efficiently," he said. "But it is difficult to make the transition from the traditional method of having the actual book in front of me."
Many other students do not agree with the system.
"It's a hassle to have to download the text. Sometimes it doesn't work, and the index often fails," said undeclared sophomore Kyle Larson.
Pre-business sophomore Scott Coffey agreed.
"It doesn't make students want to read the material. When I buy a book, I'm more likely to sit down and read it than go through a power point project. It's just a hassle," he said.
But Thompson assures his students that the integration of computers is essential to their education.
"This is what the recruiters in the real world want," he said.
Currently, Business Math I and II are the only courses using this system as a university requirement. A UA business statistics class is currently exploring the online textbook option, as are departments at Arizona State University and Northern Arizona University.
All students in the specified classes are required to purchase the appropriate equipment to download the texts. The course files may be downloaded from the course home page on the Web, or copied onto a 100 megabyte ZIP disk from a file server located in the mathematics building.
Once the files have been obtained, students can work at any computer operating from a Windows platform.