Vandals looking to steal a victory from UA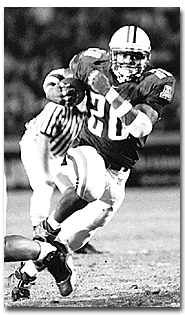 file photo
UA junior middle linebacker Lance Briggs moves in for a tackle during a game agaist Washington State last season at Arizona Stadium.
By Maxx Wolfson
---
ARIZONA DAILY WILDCAT
Friday September 7, 2001
Wildcats face Idaho in Mackovic's first home game
Tomorrow night's matchup between Arizona and Idaho will be a night of many firsts.
It will be the first meeting between the two schools in 37 years.
It will be the first time in 14 years that Dick Tomey is not roaming the UA sideline in Arizona Stadium.
It will be the first home game for new UA head coach John Mackovic.
And it will be the first opportunity Wildcat fans will get to see Mackovic's new pro-style offense in person. At least the expected 45,000 people will.
"This is the first game our fans will have a chance to come out and see us play," Mackovic said. "This game is also the first of four-straight home games, so if we can win the first game, then that builds 'til the second game and hopefully will continue."
Arizona will face an Idaho team that got embarrassed last week in a 36-7 loss to Washington State.
When Idaho head coach Tom Cable was asked how he has been since the loss he said, "I've been better."
However, Cable is optimistic.
"You keep pushing, and good things will eventually happen," Cable said. "We're at the point now where we are just trying to take care of ourselves."
Despite being an 18-point favorite, the Wildcats are not going to take the Vandals lightly.
"I know (Idaho) feels they've got something to prove since they lost to Washington State, and we've just got to be prepared," said sophomore cornerback Michael Jolivette. "They have a pretty talented team."
Senior strong safety Brandon Nash agreed.
"You can't underestimate anybody, no matter what kind of conference they come from, no matter how many wins or losses they have," Nash said. "I believe on any given Saturday, anybody can beat you. Like coach (Mackovic) said 'If you fail to prepare, you prepare to fail.'"
Wildcat players said that just winning isn't enough - they want to send a message.
"We need to make a statement," Nash said. "The fans are expecting something. We are expecting a lot out of ourselves. The coaches are expecting a lot out of us.
"Its not only going to be a victory for us - we want that - but we also want to make a statement to the rest of the Pac-10 and we want everyone to know that this is our home field and we are going to establish it and we are going to get a lot of (wins) out here."
The Wildcats don't expect Idaho senior quarterback John Welsh to have an outing similar to the one he had against WSU last weekend.
Welsh, who is regarded as one of the best quarterbacks in the Sun Belt Conference, could only muster a minuscule 66 total yards last week.
"I heard that he didn't play to the best of his ability," Jolivette said. "(Our coaches) told us that he has a great potential to do a good job."
The Vandals were also poor on third-down conversions. Idaho only converted on 1 of 13 chances.
On the opposite side of the field, UA junior quarterback Jason Johnson will make his first home start.
Johnson, who was impressive at times last week, went 21-32 for 176 yards against San Diego State.
The Vandals' had an easier time containing the passing attack last weekend than they did the running - WSU senior running back Dave Minnich led the way rushing for 127 yards. The Cougars had a total of 264 yards rushing.
That could be good news for sophomore running back Clarence Farmer.
Farmer, who ran for 90 yards last week against SDSU, said he is excited that he will be the featured back in the Arizona ground game this season.
"I have been waiting for this moment for a long time," Farmer said. "Last year I wasn't in the direct spotlight. I just want to play at home in front of our home crowd."
Cable said he knows how dangerous a player the Doak Walker Award candidate Farmer can be.
"Wow, he is so special," Cable said of Farmer. "You need to get as many heads on him as you can."
Worrying about Farmer on defense might be the least of the Vandals' worries Saturday.
Idaho enters the game with only one returning starter on the offensive line - sophomore tackle Jake Scott.
The line allowed four sacks last week for 24 yards lost.
"We have a good plan for them," Nash said.
Cable addressed the importance of the Wildcats bringing back defensive coordinator Larry Mac Duff.
"If anybody really knows about (the flex defense) and the intricacies of how you run it and the adjustments that come with it, that's him," Cable said. "(Mac Duff) coming back to Arizona is a big deal for them."
The Wildcats hope they can accomplish another first tomorrow night - winning their first home game since Sept. 14, 2000, when they beat Washington State 53-47.