Saragosa, Wildcats just too much for Utes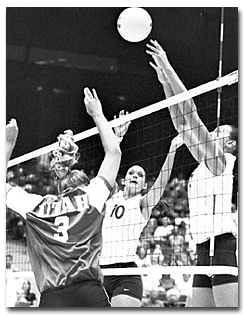 KEVIN KLAUS/Arizona Daily Wildcat
Junior middle blocker Stefani Saragosa and junior outside hitter Lisa Rutledge contest a shot at the net against Utah last night
By Brian Penso
---
ARIZONA DAILY WILDCAT
Friday September 7, 2001
The last time the UA women's volleyball team played in McKale Center they were in the midst of the program's historic run to the NCAA Elite Eight.
Last night, the swagger - and the results - were the same.
The Wildcats remained unbeaten as they handled Utah in its first match of Four Points University Plaza Wildcat Classic last night in McKale Center.
The No. 5 Wildcats (4-0) were overpowering at times, but No. 19 Utah (3-1) managed to keep the match close until the Wildcats pulled away in each of the three games to win 30-24, 30-22, and 30-22.
"On film, I knew that Utah was a very good team and throughout the first game they showed how good they can be," Arizona head coach David Rubio said. "During a timeout in the first game, I told the ladies that is a very good test for us to raise our level and sustain that level throughout the match. I told them that the one who can do that would be the team that would win and fortunately we were able to do that this evening."
Arizona improved its non-conference home record under Rubio to 40-6, dating back to 1992.
From the first serve to Arizona's match point, junior middle blocker Stefani Saragosa's intensity level was high.
Throughout the match, Saragosa stared across the net at the opposing defenders with a look of determination.
"That is a major part of my game," Saragosa said. "If I am not having a big game, I know that I can at least get in the opponent's heads. I was looking across the net and when I blocked them I let them know about it. They need to know not to bring it back because I will block it again.
"I just try to affect the team on the other side of the net in the best way I can, so they make little mistakes that will help us win. It also makes the game a lot more fun."
Every time they served, Utah players would call out Saragosa's number as well as other offensive attackers in order to be aware of their presence. Although number-calling is a common occurrence when a team is on serve, the act added to Saragosa's fire.
"It is nice to know that they know you are coming," Saragosa said. "As an attacker it motivates me because they can call my number, but the question is 'can they stop me?'"
The Utah players proved they were unable to stop Saragosa, as she finished the match with a .500 hitting percentage.
The Utes needed to contain Arizona's three most potent offensive weapons - senior Jill Talbot and junior outside hitters Lisa Rutledge and Shannon Torregrosa - in order to succeed against the Wildcats
However, they were unsuccessful in their attempt as Torregrosa finished with a match-high 16 kills.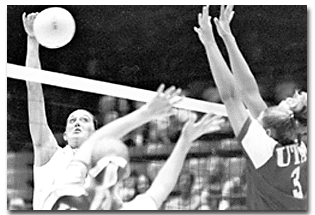 KEVIN KLAUS/Arizona Daily Wildcat
UA junior outside hitter Lisa Rutledge attempts to make a kill over two Ute defenders in last night's match against Utah. The Wildcats swept all three games for their fourth win of the season.
"I think I played good and I went out with the attitude that I am not going to worry about my mistakes," Torregrosa said. "I have been working on my mental game with (Rubio) and he just told me to stay focused and move on after I make a mistake."
Junior outside hitter Lisa Rutledge was another offensive force, amassing 15 kills and a .444 hitting percentage.
Rubio credited much of the Wildcats' success against Utah to the play of the two outside hitters.
"The whole match was determined by our left-side attackers," Rubio said. "Lisa and Shannon were just on fire and whenever they got the ball we were getting kills."
Rubio said he was pleased to see the progression that both players have made since coming to Arizona two years ago.
"One of the greatest, most satisfying things of being a coach is when you see players you have been working with for so long start to execute. For Shannon, that was the situation tonight. Her attack percentage (.162) really isn't any indication of how well she attacked the ball. Her thought process behind her kills was incredible."
Rubio compared Torregrosa and Rutledge to former Wildcat outside hitter Allison Napier, who graduated last season. Despite seeing limited playing time during her first two years at UA, Napier rose to No. 10 on Arizona's all-time kills list with a career total of 1,008.
"I think they both have the potential to be as good as Allison," Rubio said. "They both have room to grow and as they grow, and we as a team will grow as well."
Talbot continued her consistent play with 10 kills and 15 digs. She became the first Arizona player to record a double-double this season. She also finished with a match high .533 hitting percentage.
While Talbot started off the match slow, Rubio was pleased with the way she battled back.
After the first game, Talbot's hitting percentage was a dismal .280, but the team was able to improve its passing, which led to her success in the latter half of the match.
"In the first game, Utah did a good job of predicting where the ball was going and they were committing to Jill," Rubio said. "Even when we did not pass to her, they were committing to her side. (Senior setter) Dana (Burkholder) realized this quickly and she set up the left side and this helped the team greatly."
Burkholder finished the match with a season high 47 assists, and showed Utah why she was named the 2000 Pacific 10 Conference Player of the Year as well as a preseason All-American.
"When we are passing well, it will be tough for any team to match up with us because Dana is so deceptive as a setter," Rubio said. "She has such a quick release and on a good pass, no one knows where the pass is going but Dana. As a result, our attackers always have an advantage because they will be going one-on-one versus the defenders."
Defensively, UA was too strong for Utah at the net.
The Utes finished the match with a .068 hitting percentage, which their lowest percentage of the season. They also accumulated 28 unforced errors.
Senior middle locker Erin Sebbas led the Wildcats defensively with eight blocks and seven block assists, both a highs for the match.
Even though there were only 1,234 fans in attendance tonight, UA players were happy to be home.
"It is always nice to play in Tucson," Saragosa said. "I was a bit nervous, but it is nice to have a crowd that will back you up at all times."
The Utes return to action tonight against Louisville at 5 p.m. at McKale Center. The tournament concludes tomorrow when the Wildcats take on Louisville at 12 p.m.