Commentary: One chip off the old block
By Chris Martin
---
ARIZONA DAILY WILDCAT
Friday September 7, 2001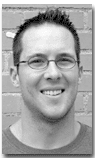 Ê
Chris Martin
Boy, did Arizona pick the right year to play Idaho.
The Vandals are awful. Few Division I teams, let alone Division II teams, can get blown out by Washington State, the bottom feeders of the Pac-10.
Idaho has a promising future though, and UA would be wise not to reschedule the Vandals any time soon.
And why is this?
Well, Idaho has a quarterback whose last name has given Cats players nightmares for two years.
What Idaho has is a Harrington - Michael Harrington. A 6-foot-4 clone of brother - and Heisman Trophy candidate - Joey, who plays at Oregon.
If Idaho's starting quarterback John Welsh were to get injured tomorrow and Michael Harrington were to enter the game, UA defensive players would be shaking in their Nikes and thinking, "Oh shoot, this kid is from the same gene pool as that quarterback Joey who plays for the Mallards. We are in big, big trouble."
Luckily for Arizona players and fans, Michael has decided to redshirt this season instead of stand on the sidelines holding a clipboard while Welsh mans the offense.
But if Michael is anything like Joey - and he is - then Idaho should be one of the top teams in the Sun Belt once Michael starts getting reps.
Therefore UA should avoid the Vandals like the plague.
All Cats fans need is to watch another one of the Harringtons orchestrating game-winning drives and picking apart the Arizona secondary.
So, what can Arizona do to combat these Harrington boys?
Well they can start by recruiting the youngest of them - David. He's currently a freshman at Central Catholic High School in Portland.
Like the old adage goes, if you can't beat 'em, recruit 'em. And apparently, we're going to need to start early with this one.
ooo
The Tucson economy is going to take a serious hit Saturday night, and it's the UA athletic department's fault.
The decision to put a television blackout on the football game because it hasn't sold out is driven by greed and ultimately hurts UA fans who would rather watch the game at home or in a bar instead of stand at Arizona Stadium for four hours in the sweltering heat.
This greedy decision will cost local merchants thousands of dollars from food and drink revenues. Add in the fact that people might have planned on watching this at home with some friends, and I'm very surprised that the community hasn't spoken out, because it should.
Furthermore, Arizona fans shouldn't be expected to have to sell out Arizona Stadium when the team plays opponents like Idaho.
It would be the equivalent of the Arizona basketball team blacking out its exhibition game against Marathon Oil because the athletic department knows the upper levels of McKale Center will be scarcely populated.
To expect fans to travel to Arizona Stadium to watch a game that will likely be over halfway through the second quarter is ridiculous.
This is just another case of the almighty dollar taking precedence over fans.