Cambodian culture on campus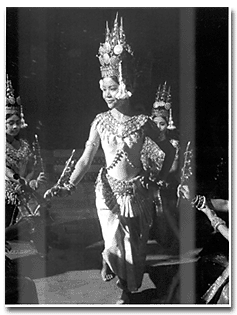 Associated Press
Sok Sokhoeun dances to convey "Dance, The Spirit of Cambodia" in "Robam Apsara." "The Spirit of Cambodia" will be featured Sept. 15 at 8 p.m. in Centennial Hall.
By Lisa Lucas
---
ARIZONA DAILY WILDCAT
Friday September 7, 2001
UAPresents generates cultural awareness through lectures
Campus officials have been saying all year that cultural appreciation and awareness have never been more abundant on the UA campus.
Beginning Sunday, UAPresents education director Benita Silvyn will promote this appreciation with the continuation of her program, "Cultures in Context."
Silvyn said she began the "Cultures in Context" program last year in order to generate more cultural appreciation of the performances brought to Centennial Hall.
"We saw a need to share information of the different cultures so that people would have more of an understanding (of) how the performances we're bringing in (to Centennial) thrive from culture," Silvyn said.
She added that the cultures presented last year - India, Mali, Hawaii and Russia - had a direct correlation with select performances at Centennial Hall.
This year will be no different.
"We're assuming that members of the (Centennial) audience would have an interest before they go to the performance to learn about that culture," Silvyn said.
This Sunday's first lecture - featuring Cambodia, in Southeast Asia - precedes the "Dance, The Spirit of Cambodia" performance at Centennial on Sept. 15.
The cultural presentation, which will take place Sunday at 7:30 p.m. in the Aerospace and Mechanical Engineering (AME) auditorium, will feature guest speaker Wayne Wright, an educational leadership and policy studies doctoral student at Arizona State University.
Silvyn said Wright, like all of "Culture's" previous speakers, is an expert on Cambodia. His expertise may be attributed to the year he spent there working with the Cambodian American National Development Organization.
"He provided training and technical assistance for local human rights and student organizations (in Cambodia)," a press release stated.
Silvyn said Wright's lecture will include some kind of visual aid - a Power Point presentation, slides or other demonstration - as is customary of "Cultures in Context" speakers.
She added the lecture would not end, however, directly after Wright concludes his speech.
"At the end we invite the audience to join us for a little reception," Silvyn said. "They get to meet with the person who gave the talk and sample food of the area."
She added the UA Asian American Cultural Association would be presenting the food for the Cambodia reception.
Silvyn said that because of the high amount of interest the lectures generated last year she hopes the audience of this year's first presentation consists of at least 50 members, if not more.
"Last year at our first (presentation) on India we had about 40 people attend," she said. "By the last one (we had) about 200 people."
She added that last year's audiences consisted of a mixture of both students and other UA and Tucson community members, though she hopes to create more student interest this year.
All "Cultures in Context" presentations are free and open to the public. Lectures will be held in the AME auditorium and will relate directly to a future performance at Centennial Hall. This Sunday's presentation of Cambodia will be at 7:30 p.m. For more information, call 626-4421.