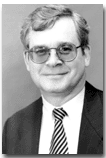 Courtesy photo
Walter Cosand, professor of piano at Arizona State University, will give a performance Sunday at 3 p.m. in Crowder Hall. Admission is free.
By Anne Gardner
---
ARIZONA DAILY WILDCAT
Friday September 7, 2001
ASU piano professor to give performance at UA
While the UA/ASU rivalry might be strong on the playing field, it is almost nonexistent in the music department.
Walter Cosand, professor of piano at Arizona State University, will be performing a concert as part of the University of Arizona's Guest Artist Series.
Originally from Alabama, Cosand lived in Iowa and Ohio before going to New York to study music. He is a graduate of the Eastman School of Music, where he obtained bachelor's and master's degrees in music as well as a performer's certificate.
He was the winner of the Eastman Concerto Competition and the Grand Prize of the International Piano Recording Competition. He has recorded several CDs on different labels and has performed solo tours throughout the United States, as well as in Canada, Europe and Asia.
Cosand has been involved in many different performing ensembles, including iChamber, a new small orchestra in the Phoenix/Tempe area that presents concerts of contemporary and/or unusual literature, the Papago Chamber Ensemble and Ensemble 21.
Cosand's appearance is part of an unofficial exchange program between the Schools of Music at UA and ASU.
UA professor of piano Nicholas Zumbro said both schools have been trying to make the communication between them much better through the exchange.
"I think this is going to improve relations between the departments (at both schools)," Zumbro said.
He also noted that this is the first piano recital from anyone at ASU.
"He (Cosand) has an ambitious program," Zumbro said. "It is a very challenging recital - he is playing two of the largest piano pieces ever written."
The program includes the organ chorale prelude "Nun freut euch, lieben Christen g'mein" ("Rejoice Beloved Christians") by J.S. Bach; "Kreisleriana" by Robert Schumann; two selections from "Iberia" by Isaac Albeniz; and "Douze Grandes Etudes" by Frederic Chopin. There will be an intermission between the Albeniz and Chopin pieces.
The program was selected by Cosand and is personally significant to him.
"I chose the Bach because it combines religious exaltation with musical brilliance," Cosand said. "It's very challenging and shows what a wonderful organist Bach must have been."
Schumann's "Kreisleriana" was based on a novel written by E.T.A. Hoffman.
"The juxtapositions (based on the novel) make for great satire and contrasts," Cosand said. "Schumann's piano music is crazy in a very Hoffman-esque way."
The Albeniz pieces are personally special to Cosand because he studied them in Spain a few years ago. However, Cosand has a different attitude toward Chopin's music.
"Do I need a reason to play Chopin's music?" Cosand asked, referring to how standard Chopin's etudes are in a pianist's repertoire. He commented on how performing the musical studies always seem to get pianists to attend.
"This will be exciting music! I am looking forward to playing it," Cosand said.
The concert is Sunday at 3 p.m. in Crowder Hall in the Fine Arts Complex. Admission is free.