Is it metal or Styrofoam?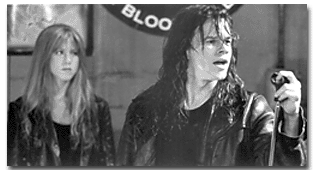 Photo courtesy of Warner Bros.
Emily (Jennifer Aniston) and Chris (Mark Wahlberg) grow apart when Chris becomes a heavy metal god in "Rock Star." The film opens today.
By Jessica Suarez
---
ARIZONA DAILY WILDCAT
Friday September 7, 2001
'Rock Star's' plot parallels Judas Priest's saga, sans interesting twists
---
Grade:
C
---
Oh well. Some of us do.

But "Rock Star" never reaches its full metal potential. The biggest problem may have been using Mark Wahlberg as the film's lead character, Chris Cole.

Chris is an office assistant who still lives with his parents, but by night he's the lead singer of Blood Pollution, Pennsylvania's top Steel Dragon tribute band. Chris pushes the band to recreate Steel Dragon's sound and image perfectly.

His bandmates just want to use the tribute band as a way to get people to hear their own original songs. When they also get tired of Chris's obsessive dedication to Steel Dragon, they kick him out of the band. His girlfriend Emily (played by Jennifer Aniston) tries to convince him that he can make it doing his own songs, but Chris doesn't understand how he can be himself without trying to be Bobby Beers, the lead singer of Steel Dragon.

Chris doesn't have to think about this for long - soon he finds he's been chosen to replace Bobby Beers as the lead singer of Steel Dragon. Suddenly Chris has money, groupies and fame.

This movie was going to be called "Metal God," but it's easy to see why it wasn't. The movie starts off with enough clever nods to the cheesier aspects of '80s heavy metal (such as the overdone concerts and bulging crotches of their singers), but then the film forgets the details and falls into regular old rock star clichˇs. The groupie jokes and hotel-trashing joke have all been done before.

On the Most Rockingest Scale (MRS), with a 10 being "This is Spinal Tap," "Heavy Metal Parking Lot" and "Metal Health," and a 0 being the "Young Guns" soundtrack and "Creed: Behind the Music," this film rates about a 6.

This is why Wahlberg, who admits to never listening to metal while he was growing up, seems like a bad choice. He acts more like the dopey boy-who-gets-lucky he played in "Boogie Nights" than the metal god he's supposedly become.

Then there's Aniston, who rates about a 0 on the metal scale. Every time she appears on screen, the soundtrack goes from AC/DC and Poison to twinkly piano music. Conversation shifts from groupies and drugs to relationships and "working it out." In short, Aniston totally harshes the buzz.

The movie also doesn't acknowledge at all that its story bears an uncanny resemblance to Judas Priest's, whose members kicked out their lead singer, Rob Halford, and replaced him with an American singer from a Judas Priest cover band. But that happened in the early '90s, when demand for Priest wasn't very high. Chris Cole joins Steel Dragon at their height, and never has to deal with the decline of '80s metal, which would have been an interesting twist to the story.

The shift back to the '80s also gives the film an oddly prophetic touch - both Seattle's coffee-bar boom and emerging grunge scene are referenced before the end. These little details are out of place in a film that ignores so many other things about metal that should have been included.