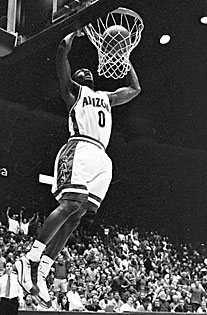 file photo/Arizona Summer Wildcat

Glibert Arenas finishes a fast break with a flush during his freshman season. The former shooting guard, a key player in the Wildcatsâ run for a title in 2001, now plays the point in Golden State.

By Brett Fera
Arizona Summer Wildcat
Wednesday July 17, 2002

Gilbert Arenas has a new attitude and position

LONG BEACH, Calif. ÷ Not since high school has Gilbert Arenas been the go-to guy on the basketball court.

The former Wildcat basketball player was always overshadowed ÷ first by a blue-chip recruit and a high-profile transfer player at UA, and then, in his first season in the NBA by a potential All-Star.

Now the court is his.

Playing for the Golden State Warriors in the DADA NBA Summer League in Long Beach, Calif., Arenas has become the teamâs main attraction.

In his first game this summer, Arenas led Golden State with 25 points and 6 assists against the three-time NBA champion Los Angeles Lakers, and has averaged 18 points per game overall.

However, the 20 year old is doing this from a position he just started playing halfway through last season with the Warriors ÷ point guard.

With the likelihood of Larry Hughes, Mookie Blaylock and Dean Oliver not coming back to Golden State, the Warriors have made Arenas their point guard for 2002.

ãPlaying point guard is new to me, so Iâve been watching a lot of tape on different players, like (former Arizona stars) Mike Bibby and Damon Stoudamire,ä said Arenas, who is the only point guard on the Warriors roster with pro experience. ãIâm just watching to see how they run their teams.

ãOut here Iâm just learning the system of it,ä he said. ãLast year, I got away with my speed, but next year, that is what teams are going to be keying on, and theyâre going to be playing me for that; so I need to keep adjusting my game and growing as a player.ä

That has been one thing the native of North Hollywood, Calif., has done since his collegiate days.

It was a struggle for Arenas at UA right from the start and it showed. He battled everything from lack of motivation and ultimately lack of playing time, to dealing with his full share of incidents with head coach Lute Olson.

ãMy problem then was that I had never had a coach like coach Olson,ä he said. ãHe used to play mind games with us, but they were meant in a positive way to teach us to think for ourselves while on the court.

ãI used to think he did not like me, until coach sat me down after freshman year and said to me, ÎWhen I stop yelling at you, thatâs when you know that I donât like you.â I understand that there is a reason now why coach Olson is in the Hall of Fame.ä

Despite his on- and off-court troubles at first, Arenas was a major factor in Arizonaâs run to the 2001 Final Four. Just days after his sophomore year was complete he decided to depart Tucson and test the NBA waters.

He followed teammates Michael Wright, Richard Jefferson and Jason Gardner all declaring for the draft after him.

ãWe would have won the championship this last year (2002), and next year (2003) at Arizona (if we had all stayed),ä he said. ãAs a player leaving early, you always look back and wonder what could have been; but you have to be happy with your decisions, because you ultimately have to live with them.

ãRight now itâs turning out well for me, and not a lot of players can say that. Iâm just going to enjoy it from now on.ä

After being told by many that he would be a first round pick in the 2001 NBA Draft ÷ meaning that he would get a guaranteed contract ÷ he was taken by the Warriors at No. 31, three-picks into the second round.

Along with the draft-day disappointment, Arenas also dealt with issues with playing time, seeing only a handful of minutes per game if that and was on and off the active roster.

ãThey drafted Jason Richardson at number five in the first round, and had Bobby Sura backing him up, so basically I get drafted as the third shooting guard off the bench,ä he said.

That would eventually change

He was finally given the chance to play in the second half of the season when Hughes began to struggle.

Arenas would make the most of his minutes.

ãTo be honest, no, I did not want to play point guard at the time; but the only way I was going to see the court is playing the point,ä said Arenas who averaged 10.9 points and 3.7 assists last season.

ãRight now Iâm just playing around with it, seeing what I can get away with and what I canât.ä

So far it looks like it is working.